BOLDR Globetrotter GMT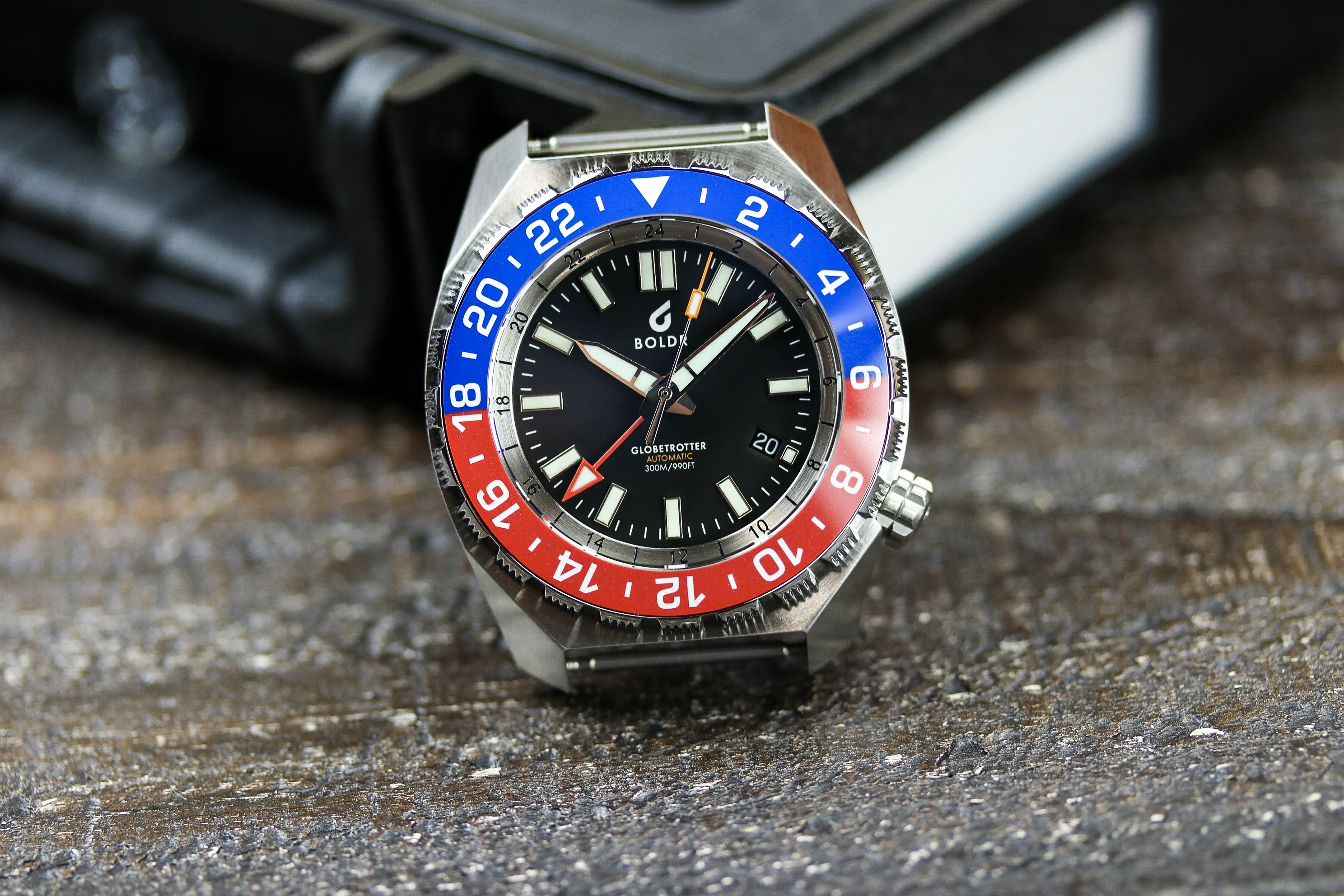 If the BOLDR Globetrotter GMT looks somewhat familiar to you, that would be because it is an evolution of the BOLDR Odyessy, a watch I reviewed HERE last year. The Odyessy was a very nice watch, but a little on the large size for myself and others, and also a little more fashion over function, at least for me. The Globetrotter is smaller in diameter but also has quite a few changes that include the crown, bezel, dial, and even the strap. While the two watches share the same case style, they really are two different watches in my opinion and the GMT is the clear winner.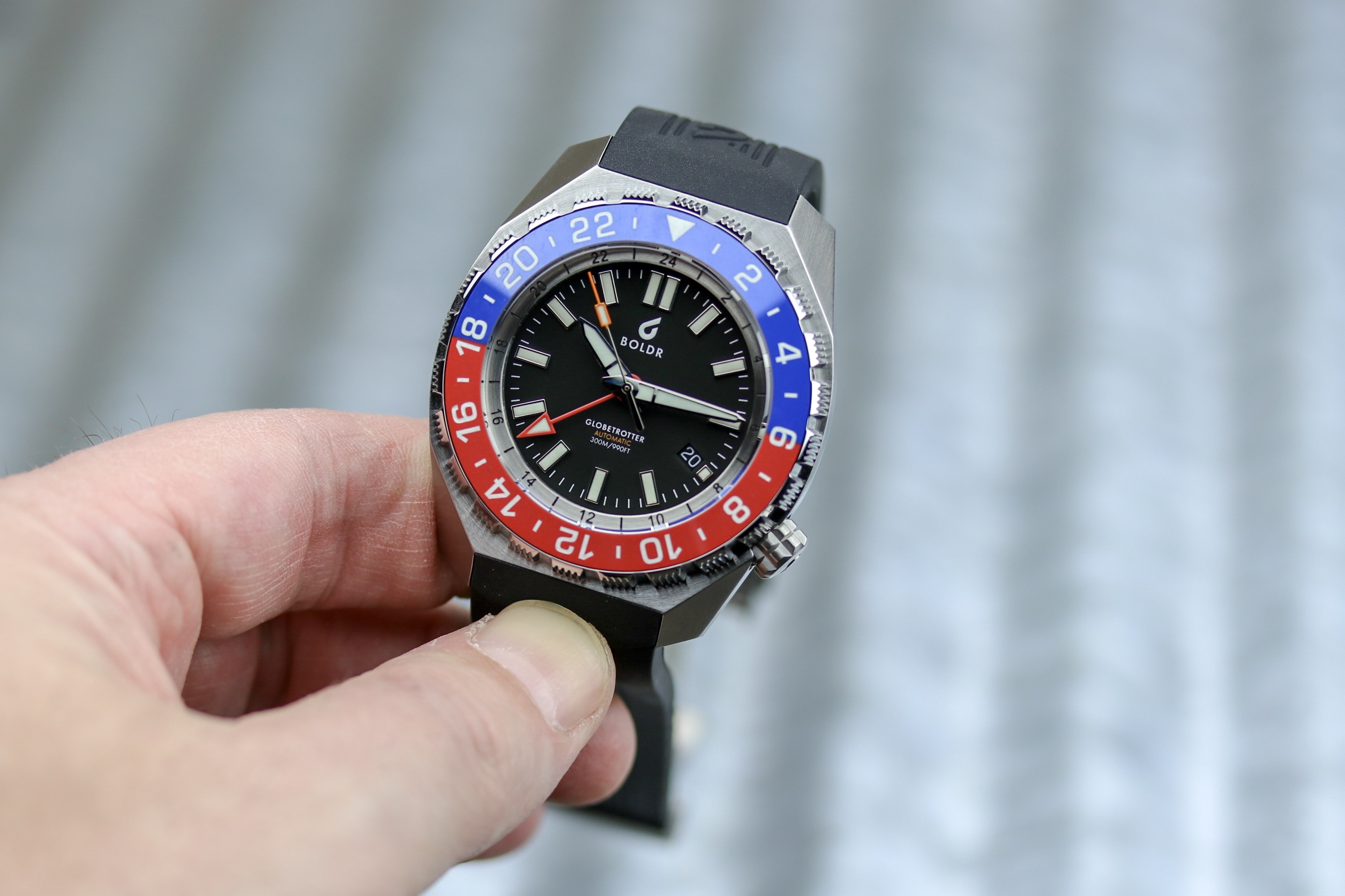 BOLDR Globetrotter GMT Specifications:
44M Case Width
14.5MM Thick
50mm Lug to Lug
22mm Lug Width
300 Meters Water Resistant
Sapphire Crystal
Dual Colored Ceramic Bezel Insert
Swiss ETA 2893-2 Elabore-grade automatic movement with independent adjustable GMT-hands
Rubber Strap With Dive Clasp
Price: $799
Save 10% Using code Watchreport10 at checkout on the BOLDR Website: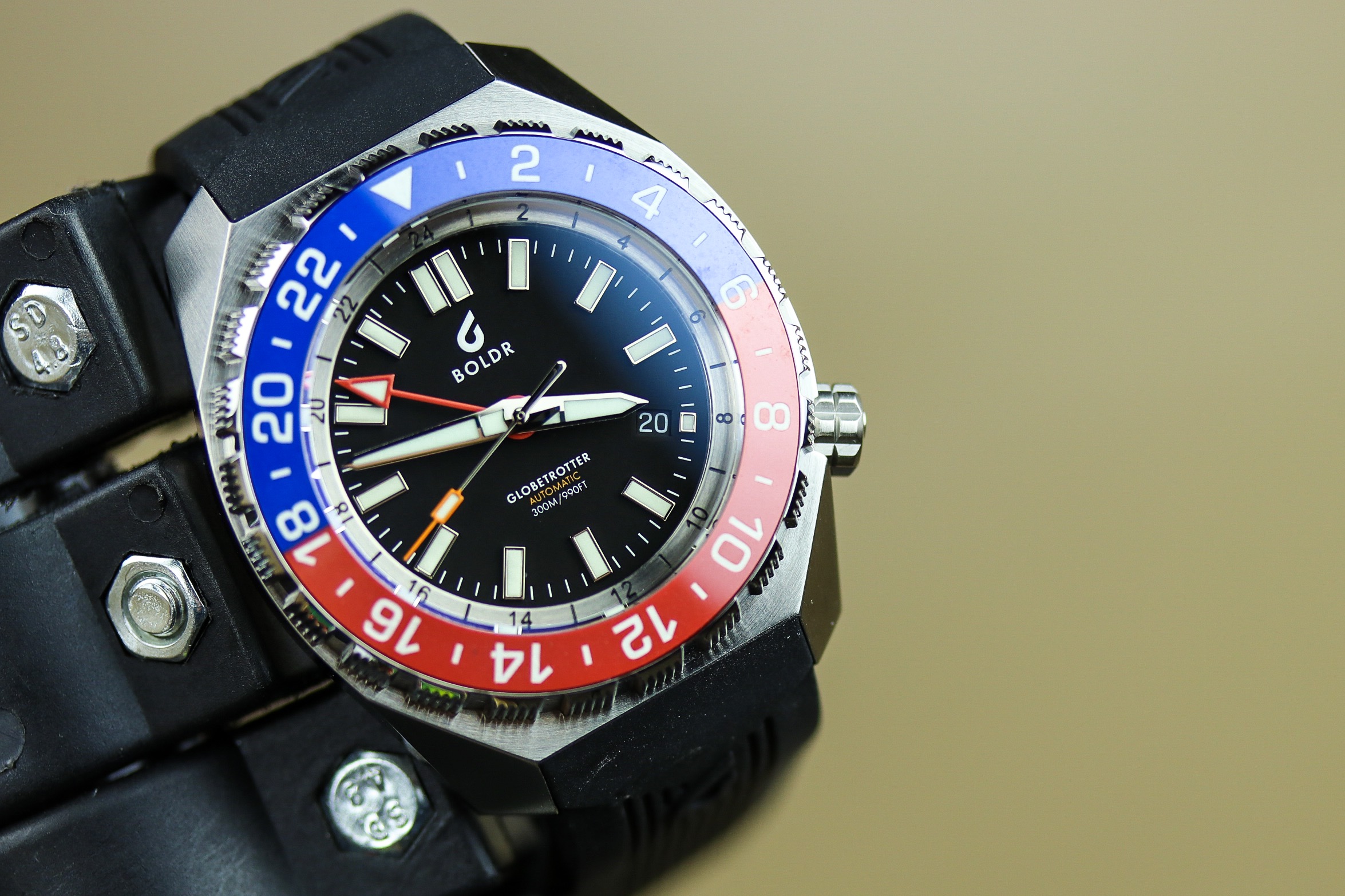 Yes, the Globetrotter is a fresh new take on BOLDR's previous design and one that I am very fond of. This new GMT model comes in a few variations, but I have to say the Pepsi version is my favorite. If it is not yours though, check out their site for the Batman version (black and blue bezel) or the World Time bezel variations. The red and blue bezel is ceramic, and while Rolex popularized the Pepsi GMT,  I think the red and blue colors are a much better hue and much more vibrant than the latest Jubilee version.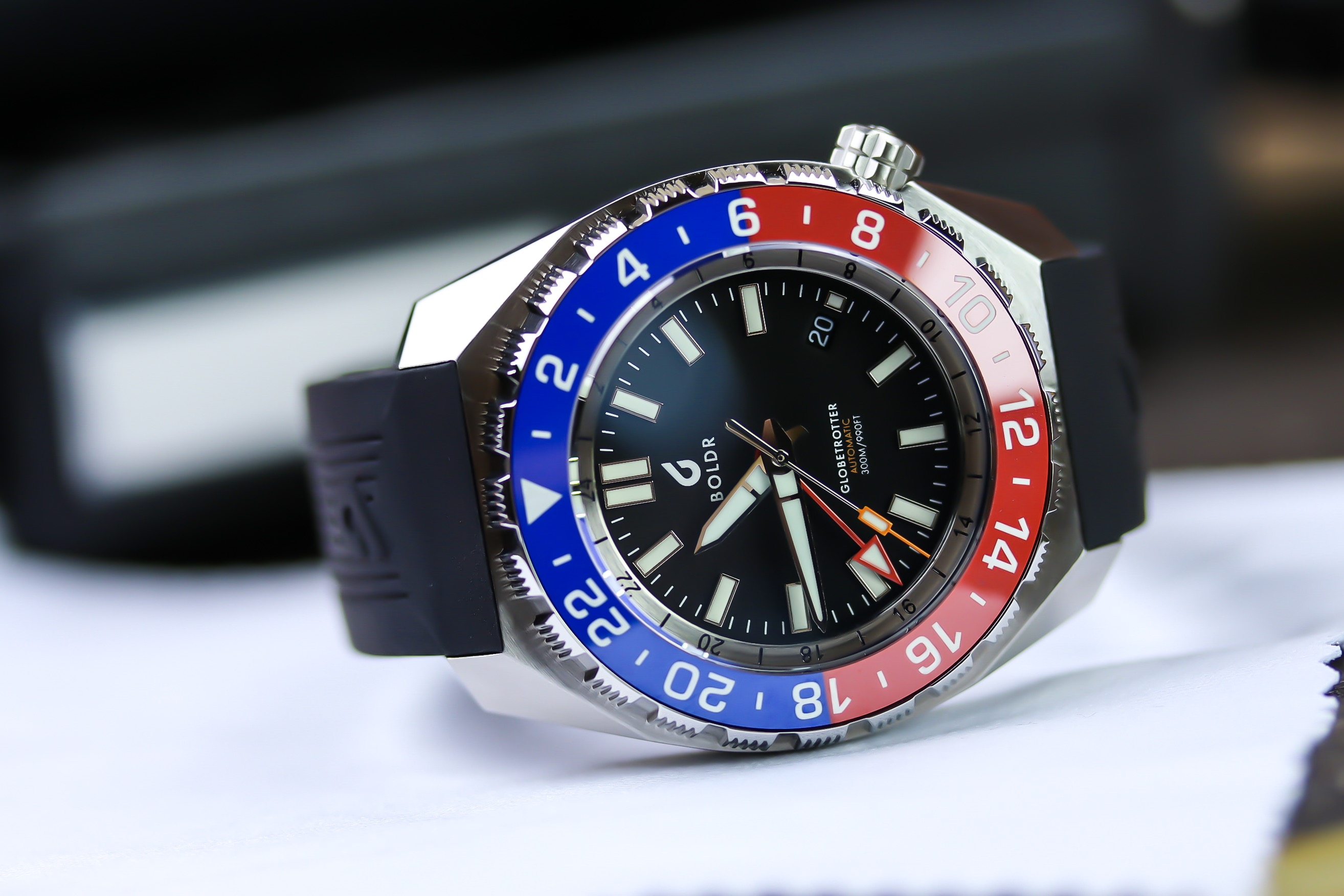 The BOLDR Globetrotter GMT comes in at 44mm and that might not sound like a big difference from the 45.5mm Odyssey, but the combination of a slightly smaller diameter and the crown at the 4 o'clock positions instead of 3, really does make a difference. The previous model wore large on my 7 1/2 inch wrist and felt somewhat bulky. This model also comes with a fitted rubber strap that helps it mold to the wrist, so that is a nice change as well, although I do have some issues with the rubber strap I will get to in a moment.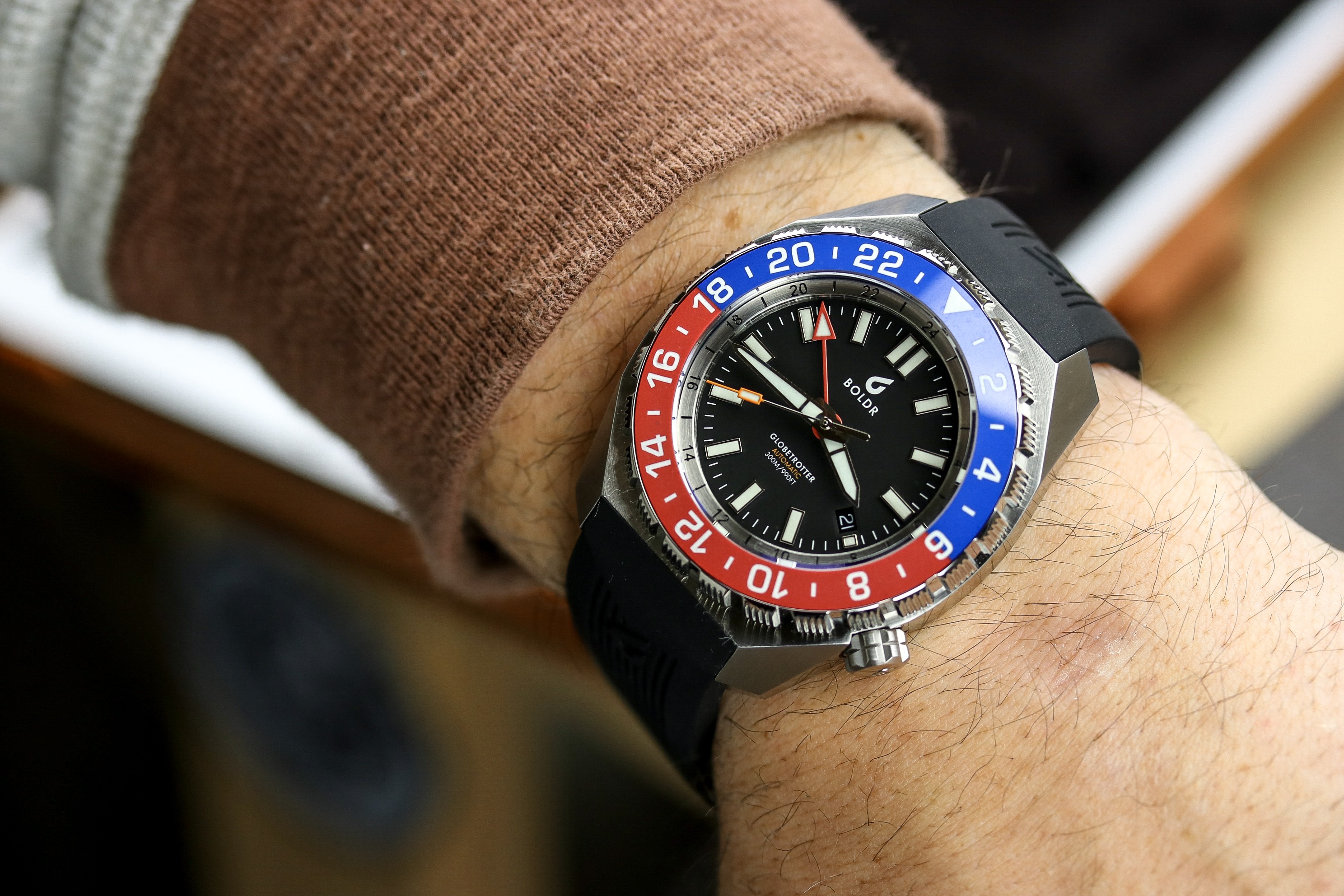 The Globetrotter comes in a pelican style hard case-this is nothing really new for dive watches, especially from microbrands such as BOLDR. What is a little odd is that the rubber strap, buckle and watch head are all separate, as you see below. Putting them all together is not exactly difficult, but when you add in the fact that you have to then cut to size the rubber strap, and the strap itself is gigantic, it is a little time-consuming. I am not sure the reasoning for this, and while they do include the tool to help you with this, I do not think many people will enjoy finishing the last part of the assembly on their own. If you do not like the rubber strap, any 22mm strap that you have would look great on this watch, I personally think an Isofrane or similar would be perfect.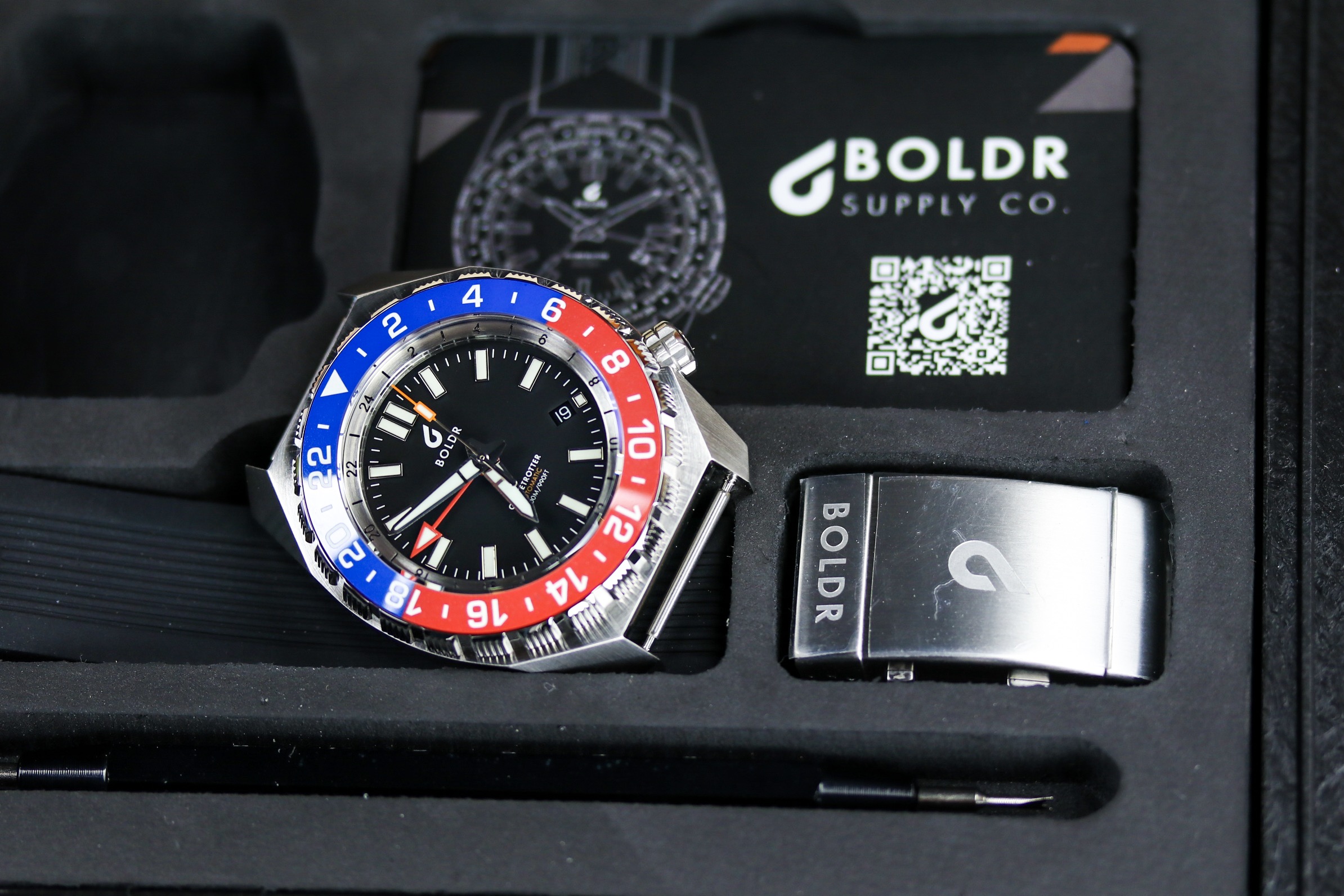 There are really only two things that the BOLDR Globetrotter GMT shares with its sibling the Odysees and that is the case style and the hour and minute hand. Pretty much everything else has changed (for the better) and the standout to me is that bezel. Reminiscent of a Doxa bezel, it is very aggressive looking but does not hurt your fingers, is easy to grasp and very satisfying to turn. Notice you have the GMT on both the bezel and on the rehaut of the dial, which is a little redundant but will obviously get the job done. The black matte dial has been kept pretty clean with only minimal text and I appreciate that they went matte here, it allows the ceramic bezel insert to shine more if you will and allows the watch as a whole to not be too "blingy", which is what I think it would look like if it had a sunburst or gloss dial.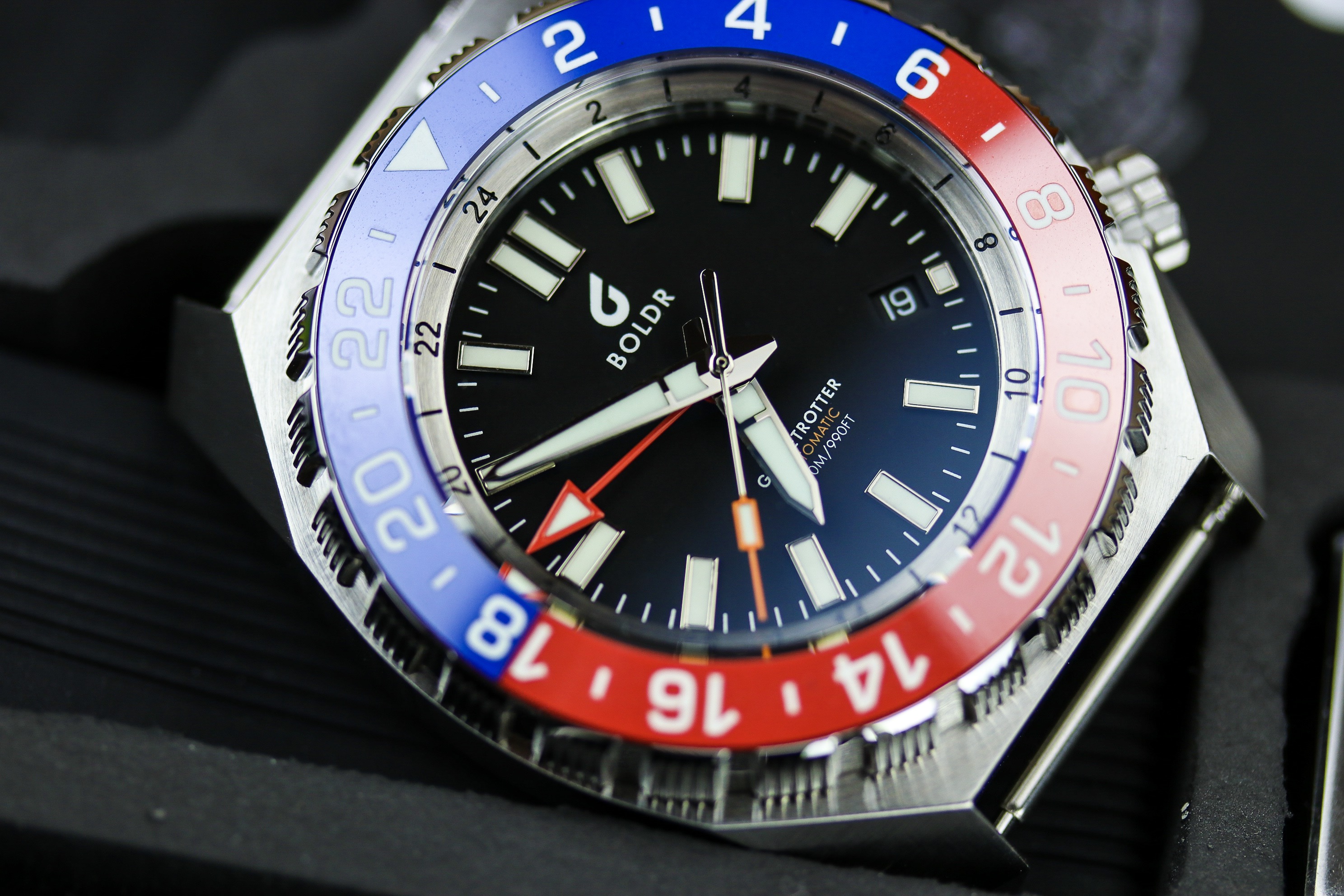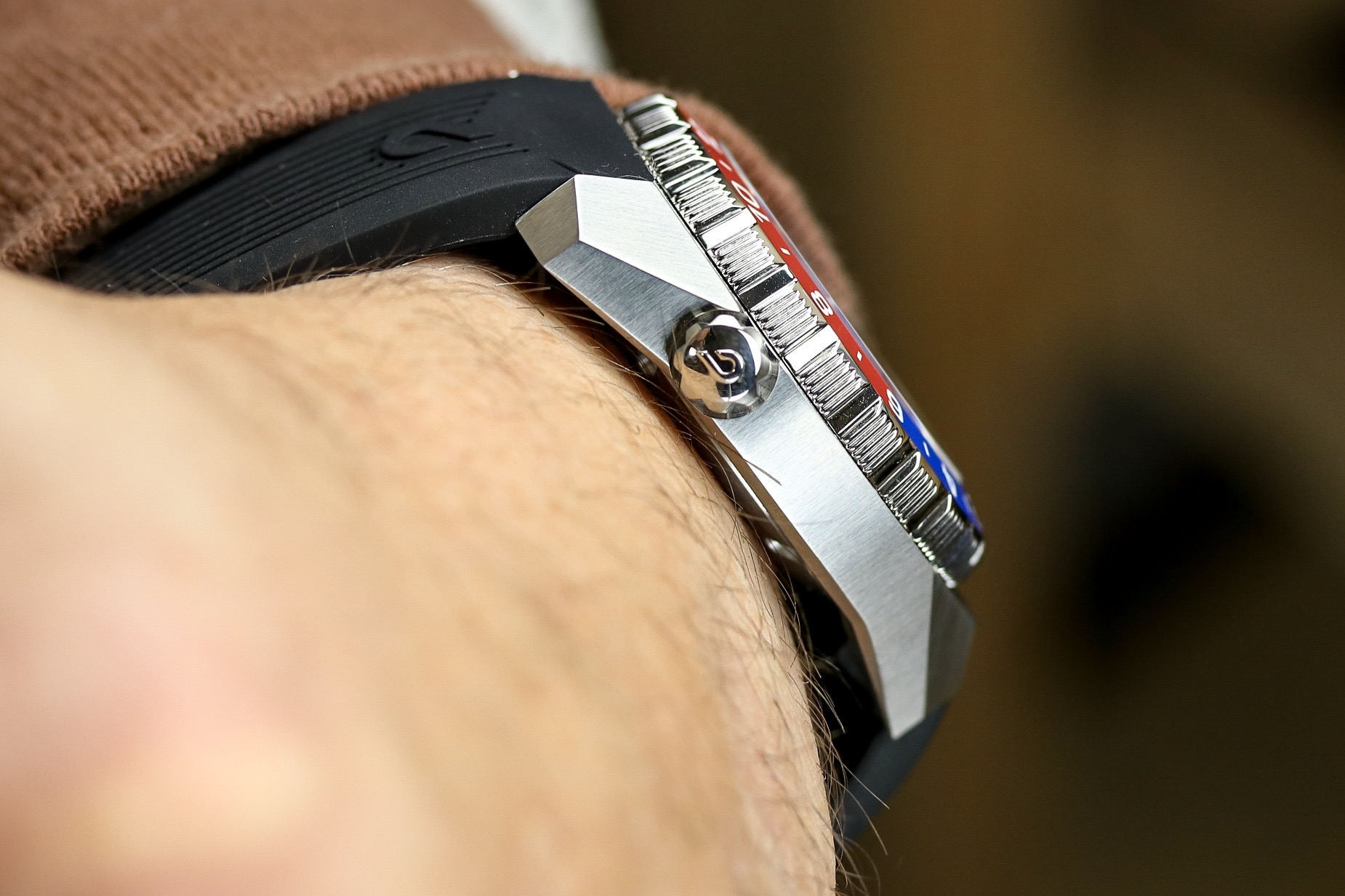 If it seems like I keep comparing the Odyssey to the Globetrotter, it is because I am. How could I not, with the cases being practically the same, but this one is just a tad smaller. I know many that loved the Odyssey and while it is a good looking watch and still popular for the brand, this GMT model checks a lot of boxes for me. Another improvement over the last BOLDR model I had in hand is the use of the ETA 2893 Elabore GMT movement. Now, this is a pretty much the go-to movement for an automatic GMT at this price point, but the last one I reviewed had the NH35. I feel this movement elevates the watch and allows it to be more than just another micro using a Seiko movement.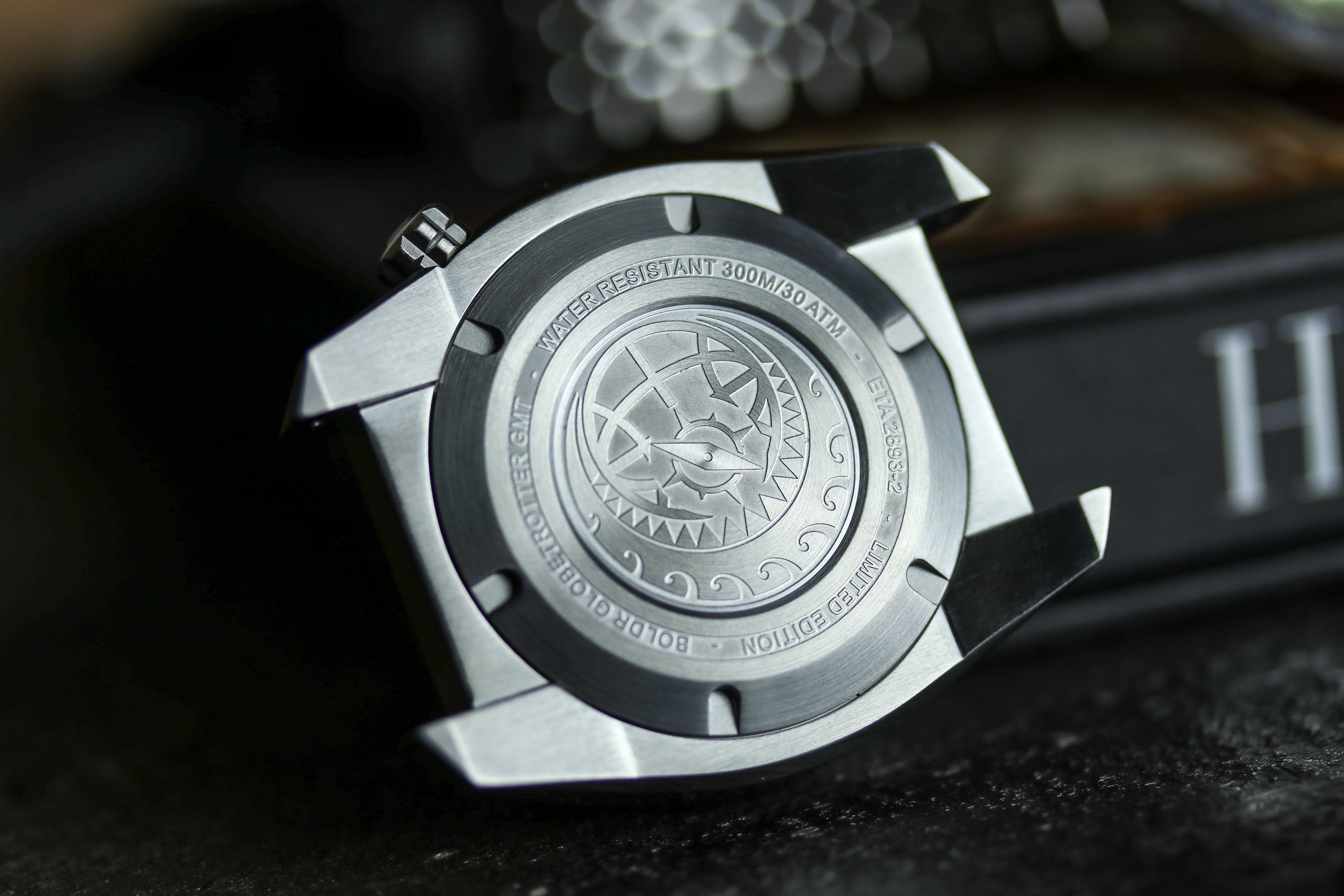 Lume on this baby is absolutely fantastic. But do not take my word for it, just look below: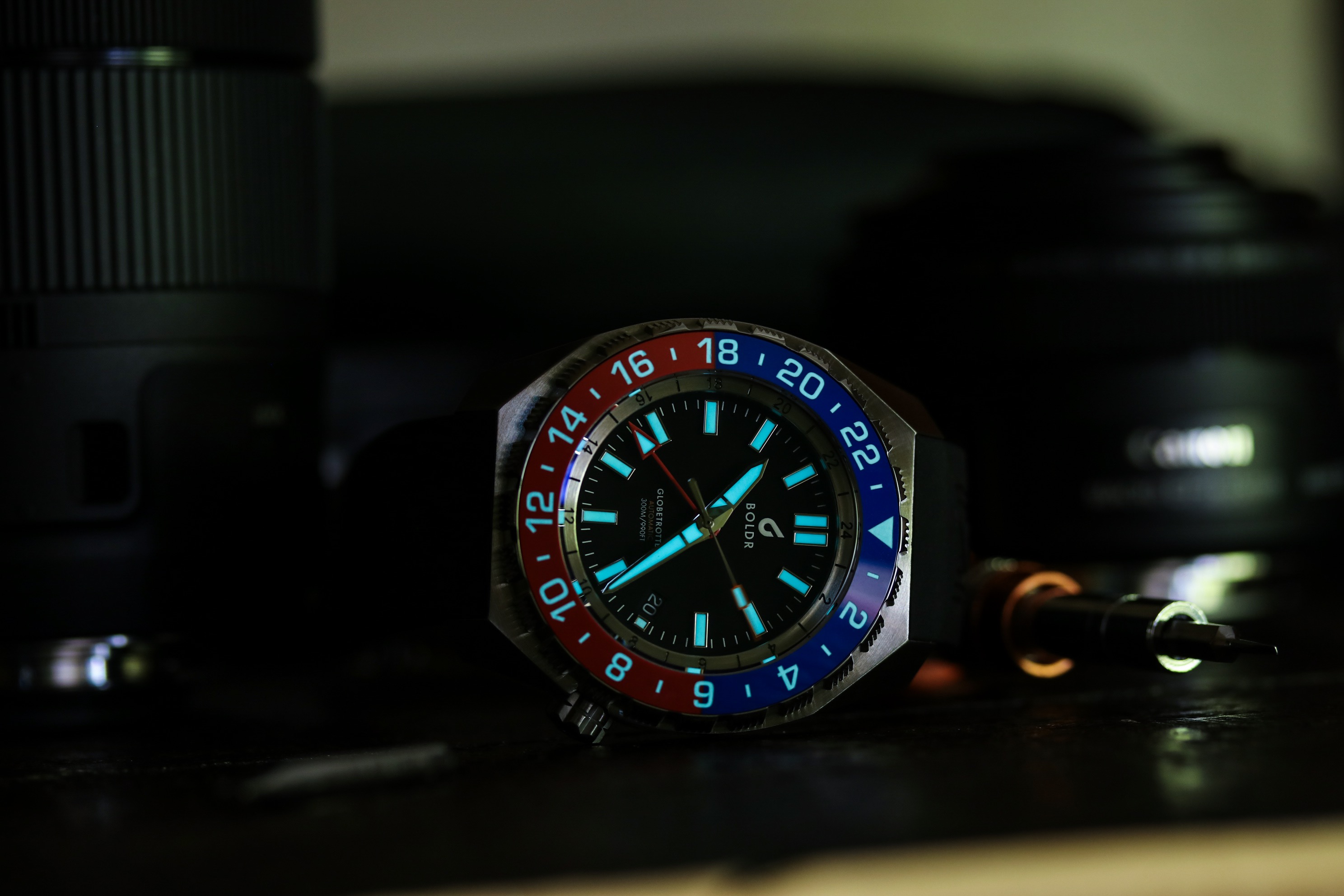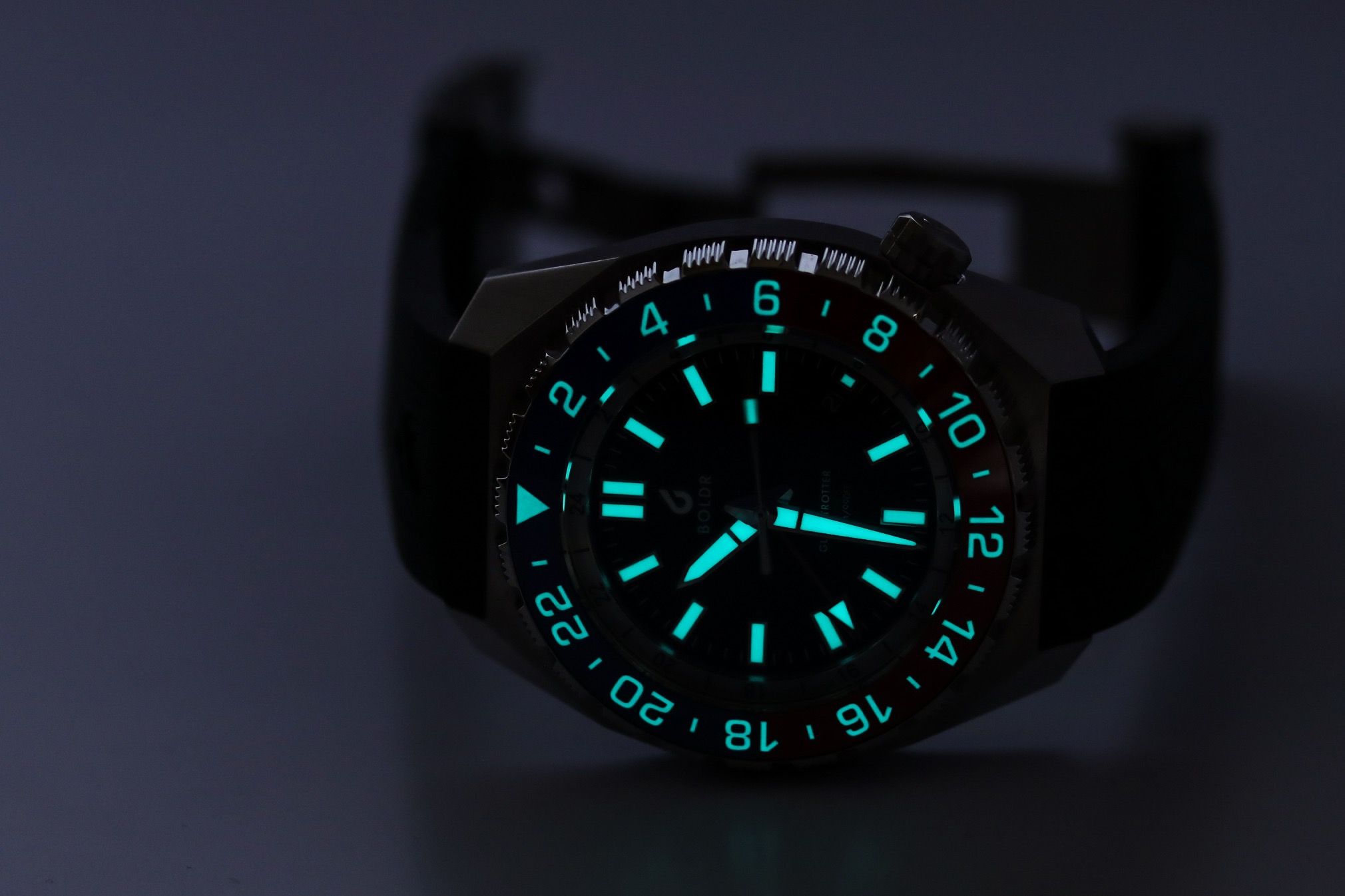 The Bolder Globetrotter GMT improves on the Odyssey design and for me, this is the one to get. The Odyssey just looked too much like a cross of a Panerai, Rolex and something else and I just wanted it to be able to stand on its own a little more if that makes sense. Yes, this GMT has a Pepsi bezel who many attribute to Rolex and that bezel edge is similar to a Doxa, but on the whole, this watch stands out from being a clone or homage and it feels original. The rubber strap issue aside, this is an extremely well-made watch that I can not really find any fault with.  I really like the direction BOLDR is going and looking forward to seeing more.
Remember, if you are interested in this watch, use code Watchreport10 to save 10% on the BOLDR Website.