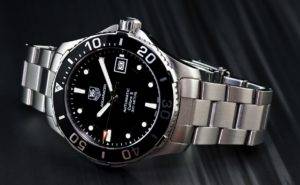 In our continued effort to find thin and versatile sport watches we were quite happy to see that the recently refreshed Tag Heuer Aquaracer line up still had a 300m model that retained the classic good looks and modest sizing seen on Tag Heuer's of the past. With much of the spotlight going to the flashy new 500m Aquaracer models, the WAN2110 300m models seem to be blending into the background given their more reserved and dressy styling. After spending the better part of a month with the WAN2110, I can say that while this watch is understated, it should not be ignored.
41.5 x 12 mm case
48mm Lug to lug
Tag Heuer Calibre 5 (ETA-2824-2 or Sellita SW200)
20mm Lugs
Flat sapphire crystal with AR
Aluminum unidirectional bezel
Tapered steel bracelet with SEL
300m WT
MSRP $1700
Tag Heuer is likely best known for their chronographs and their involvement with motor sports throughout much of their history (much of this is pre "Tag" when the company was just "Heuer"). Iconic models like the Monaco, Silverstone, and the Autavia range of chronographs have lined their past with a strong presence in watchmaking and time keeping. In the modern perspective Tag Heuer has given us its F1 range, as well as watches made in cooperation with McLaren Automotive, and this year at Basel, Tag Heuer unveiled the Mikrotimer Flying 1000 a concept watch that houses a mechanical chronograph capable of measuring to a resolution of 1/1000th of a second. Tag Heuer is at the top of their game, once a brand known more for its celebrity endorsements they are making considerable strides towards restoring their position as one of the main players in quality Swiss sport watches. Recently, Tag Heuer introduced a re-styled Aquaracer line which we previewed here. This new range features many models that carry the last generations styling as well as the new 500m models with their large cases, rubber-clad bezels and beautifully textured dials (and unfortunate date magnifiers). The WAN2110 that we are reviewing here is part of the new line as a refresh of the previous WAB model. If you wanted to find the WAN2110 on Tag Heuer's website you would need to go to the Aquaracer section and then scroll past some fourteen other models to get to its listing on their site. Its almost as though they don't want you to find the WAN2110 and we cannot figure out why as the 2110 (and its blue sibling the 2111) may be the most appealing dive watch Tag Heuer makes.
The dress diver is a style that has, for the most part, been mastered. Omega makes the Seamaster and Rolex makes its iconic Submariner and James Bond has worn both. The dress diver appeals to the buyer who wants something tough but aesthetically versatile, a watch for jeans and a suit. A dress diver must be thin enough to fit under a shirt cuff, feature a small enough case to not be ostentatious and exhibit simple but luxurious styling elements. The 2110 is a definitely a dive watch featuring 300m water resistance, a screw down crown and a bracelet with a wetsuit extension. The case is 41.5 mm with polished sides and 20mm lug spacing. Even better, the case, bezel and sapphire crystal stack up at only 12mm thick which is very thin for a sport watch that features 300m water resistance. The overall effect when on wrist is perfect, the case is just the right size for a modern dress diver and the slightly curved lugs ensure an excellent fit. The unidirectional 120 click bezel is light and sturdy but sounds somewhat cheap, which could simply be the number of clicks needed to make one full rotation. A 60 click design would be much better as half minute timing is likely best left to the second hand. The grip on the bezel is excellent as there are six evenly spaced grip tabs built into the edge of the bezel beyond the scale. These function like the rider tabs on Breitling bezels but thankfully do not extend onto the face of the bezel. The 12 o'clock setting on the bezel has a completely inlaid luminous pip, so unlike other watches that have a stick-on dot the Aquaracer's pip cannot be knocked off or come loose. The dial is beautiful and likely my favourite part of this Aquaracer, it is a high polish glass-like black with printed text, inlaid markers and a classy inner circle design element that really pops when light hits the dial (see photos and video). The markers have beautiful chrome borders that match the long elegant hands perfectly. The date window has a thin white border and the date wheel uses black text on a white background so the date feature as a whole blends into the balance of the dial. The dial and its anti-reflective sapphire crystal are visually stunning and I actually caught myself staring at the dial and not even noticing the time. The finish and attention to detail is excellent and surprised me given the price of the WAN2110 as one of Tag Heuer's entry level automatic divers.
You likely wont worry about the time, or at least the Aquaracer's ability to accurately measure it. The WAN2110, like most of Tag Heuer's 3 hand models, is powered by the Tag Heuer Calibre 5 automatic movement. The Calibre 5 is essentially an ETA 2824-2 or Sellita SW200 but Tag has apparently dressed it up in some way. As the WAN2110 is not equipped with a display back I am not sure how much this example is really improved upon. That said, this movement keeps excellent time. If averaged out over a week of use (worn during the day left crown down or up at night) this example ran between 0 and +2 seconds a day, making this Tag Heuer one of the most accurate automatics I have ever reviewed. Whatever Tag Heuer does/doesn't do to the movement is not of any real concern as they certainly have not made it worse. The screw down crown is a problem as there is almost nothing for your finger tips to grip on the edges of the crown so its something of a slippery affair getting the crown to and from its setting positions. Once unscrewed there is very little play or wobble in the stem so time setting and winding are simple enough. We hope that Tag Heuer can fit a new, preferably grippier, crown to this model at some point in its future.
The bracelet is very nice and look amazing as it tapers from 20 to 18mm at the clasp. Solid links with polished sides feed into a simple fold-over safety clasp with four micro adjustments and a hidden wetsuit extension. The finish on the links is excellent and they ever so slightly bevel inwards at any point where they might lock up against another link. The bracelet does not display any considerable rattle and has not pulled any hairs. Sizing the bracelet, on the other hand, is a hair-pulling experience. Unless you have experience sizing all sorts of bracelets and have the tools needed this is a process best done where ever Tag Heuer watches are sold. The links are held in place by a pin and collar style design that makes removing links difficult and somewhat tricky. If you do size the bracelet on your own, be very careful not to misplace any of the collars as I assume they would need to be sourced directly from Tag (use an upside down piece of tape to keep them in place on your work bench). Once sized for my 7.5 inch wrist I began to notice that, while not being the most high quality bracelet I have ever seen, it is one of the best looking bracelets I have ever worn. The simple downward slant of the outer links, the excellent all-brushed finish and the perfect fit of the sold end links against the case of the Aquaracer really complete the look.
The WAN series is available in the reviewed black or blue and retails for $1700 but can likely be had for less than $1300 after authorized dealer discounts. Tag Heuer is a well known and respected brand in Swiss watchmaking and I believe this new Aquaracer should get far more attention as it features the same movement as the 500m but its classic styling and more reserved dimensions may very well stand the test of time better than the more brash WAJ series. While we think this smaller, more refined and simple Aquaracer is the one to have, you do not have to take our word for it, with Tag Heuer's extensive dealer network you can try one on for yourself.