The Bloxworth 316L Marine grade stainless steel case has a very nice brushed finish. The case measures a robust 44mm and slightly over 47mm including the crown. The lug-to-lug measurement is a touch greater than 53mm. That, combined with the case diameter, 22mm lugs and 13mm thickness provides quite a bit of wrist presence without feeling cumbersome or appearing over sized.  One of the more unique aspects of the Bloxworth is the strap end-link connection as it provides for an almost squared off appearing lug area, however, the case still conforms to the wrist quite nicely. The end links are attached by lug bars, rather than spring bars, which is another fantastic feature of the model. I do feel lug bars are much more durable than spring bars and less likely to fail.
The signed push/pull crown measures almost 7mm in diameter and is quite easy to grasp and engage. Yes you read right the Bloxworth comes with a push/pull crown and is still 200m water resistant. The function pushers measure around 5mm and have a nice texture on the face. I want to take a moment to go over the testing process as explained to me by Elliot Brown. The company uses a triple crown stem and pusher sealing system that will allow the watch to pass 200m water pressure test even when the crown is pulled out to any degree and of course when pushed in completely. According to them, a screw down crown can be problematic based on life situations and distractions so they wanted to devise a system that would have a smaller margin of error. I'm not sure about everyone, but I have been distracted before to later find my screw down crown unsecured.
Elliot Brown's watch testing process includes 150m air pressure, then water pressure at 200m for 10 minutes, then placed on a hot plate at approximately 45 degrees Celsius while a drop of cool water is placed on the crystal to test for any condensation.  The watch is also shock tested (application of 5000g at point of impact) surpassing ISO1413 specifications according to Elliot Brown.  No plastic movement holder in Elliot Brown watches but rather a floating stainless steel housing machined in a specific way with other case components to absorb shock.  Based on this information I would say durability is high on the list for Elliot Brown.
The Bloxworth has a coin edged, 120-click unidirectional rotating bezel, which is easy to grasp and quite precise on the clicks with just an ever so slight amount of backward play but no wobble. The bezel insert is a heavy duty aluminum with an almost ceramic look which also has a 20 minute countdown marked in orange. The watch is fitted with an almost 36mm interior AR coated mineral crystal that is approximately 3mm thick. According to Elliot Brown, the choice of mineral was deliberate to conform to their philosophy of durability, as a mineral crystal will tend to be more shatter resistant than sapphire. I understand the durability aspect, but I personally always prefer sapphire over mineral, as I'm much more likely to scratch a crystal than shatter based on my daily activities.
Beneath the crystal is a fantastic looking black dial with orange accents. The chapter ring surrounding the dial is marked in orange, which corresponds with the bezel countdown, as well as, the other orange accents present with the subdial hands. The dial has as clean of an appearance as possible for a 3-eye chronograph with minimal branding slightly above center dial. The small second hand is positioned to the right of center, chronograph minute counter to the left of center with the hour accumulator positioned just below center dial. All subdial hands are orange in color corresponding with the other orange accents on the watch.  A large date window is positioned between the 4 and 5 on the dial, which is quite legible.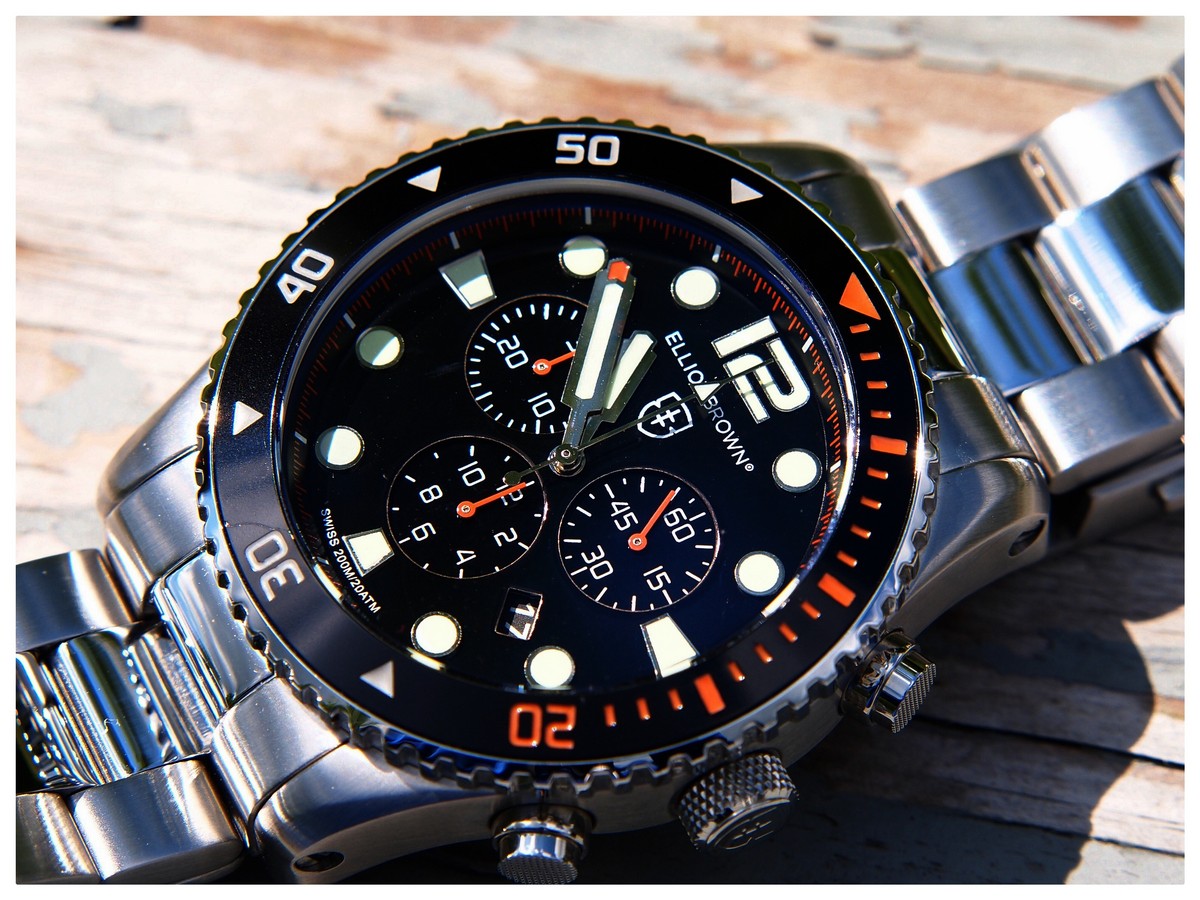 All of the dial markers are applied, which in my opinion, is a detail far overlooked too often by many watch companies. The markers have a high polished finish adding a touch of flair overall appearance of the watch. Applied markers just really make a watch seem more elegant, at least to me. All of the markers contain Superluminova, which you will see later in the review. The Plongeur looking handset is high polished matching the dial markers adding even further to the flair of the watch. The hands contain Superluminova including the triangle near the tip of the chronograph second hand.  Gorgeous dial overall and I wouldn't change one single aspect.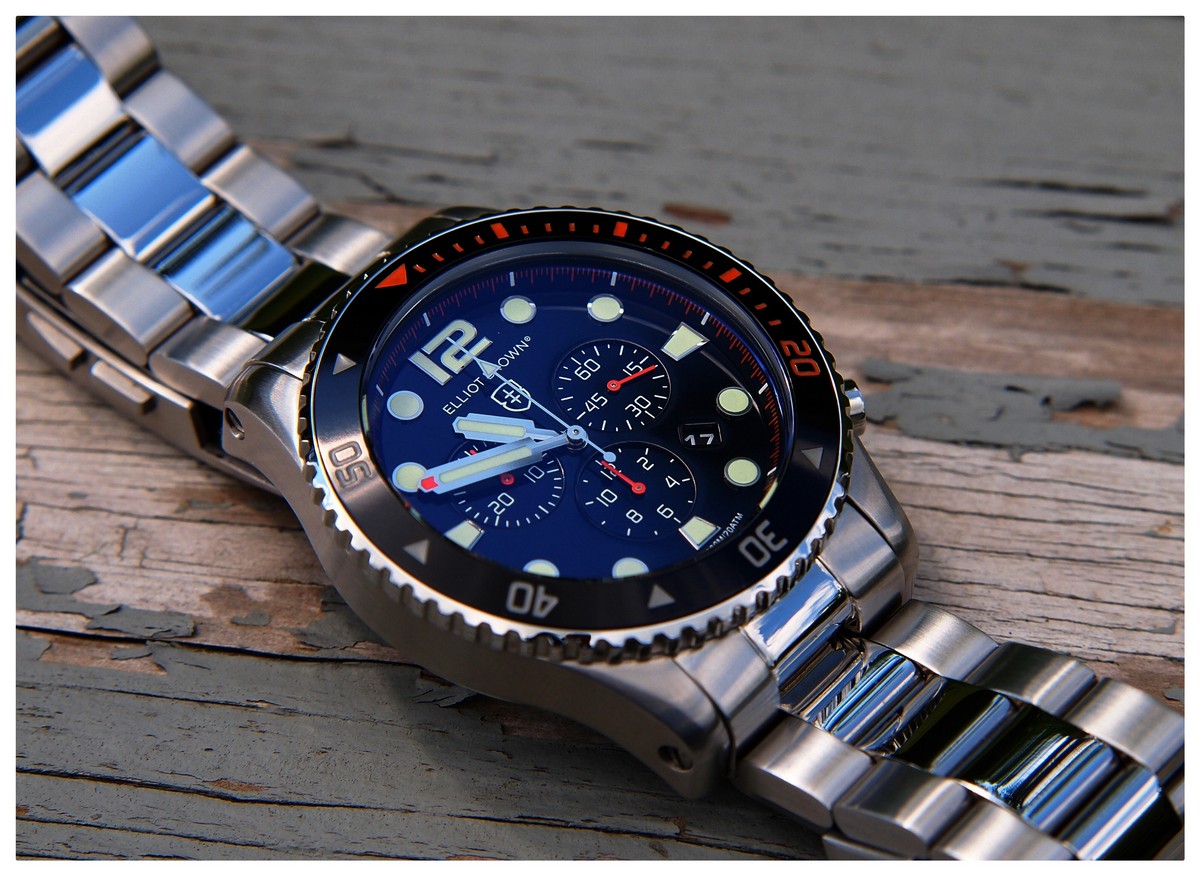 Initially I thought the Bloxworth had a standard screw down case back, but after closer examination, I discovered the case back is actually attached to the case using 6 hex bolts. I like the use of bolts, but am not quite sure hex bolts lend to easier serviceability over a standard screw down case back, however, durability is definitely not an issue. The Elliot Brown logo is engraved at the center of the case back with various specifications surrounding the outer edge. Beneath the case back is a Swiss Made 13 jewel Ronda 5030D Quartz Chronograph movement that has been highly accurate as expected since delivery. I am a fan of this quartz movement, but would very much enjoy seeing the Bloxworth house an automatic movement even if it was a Miyota 9100 series chronograph. Of course, automatic movements are not quite as durable toward shocks but with the case and holder design used by Elliot Brown I think they would hold up quite well a be a huge hit.