Orange Watch Company (OWC) Mil-Sub Watch Review
Specifications:
40.5mm stainless steel case
Lug-to-Lug 51mm
Lug Width 20mm
13mm thick
220 grams
Ceramic Bezel
Snowflake hands
4.5mm thick sapphire crystal
4mm thick stainless steel bracelet
300 meters water resistant
Movement as reviewed: Soprod A-10 automatic movement
Price: $1100 USD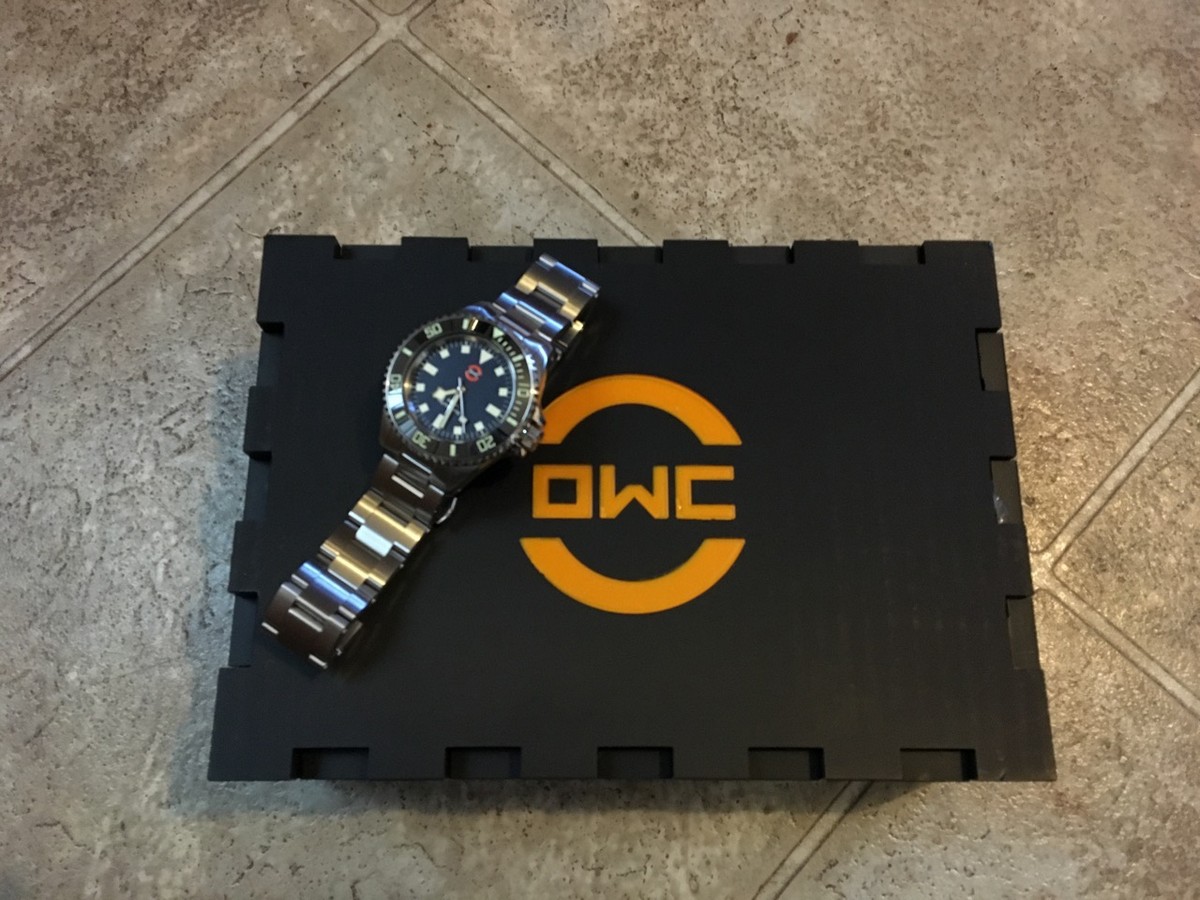 Orange Watch Company, or OWC as I will refer to them throughout the review, might be a company you are not familiar with, but you should be. Especially if you want a superbly made homage to classic Rolex, Tudor and Mil-Sub watches of the past. If you want something that is a true homage, meaning it is not trying to be a one of one copy, the OWC should fit the bill.
After having this watch in hand for about a month, I struggled with how I wanted to word this review. What does that mean? Well, this is not a watch that is revolutionizing anything in the watch world, not in terms of design, materials or movement. But, I was absolutely impressed with the OWC Mil-Sub and I thought it would come off "glowing", a term some people use on the internet if you write a review that praises a watch. I guess since I am a reviewer and even though I will without hesitation tell you what I really think of the watch, if I really like a watch and can't find a fault with it, I somehow didn't do a good review….
Well, two things. One, that is ludicrous. The reality is, there are times I just love a watch up and down for what it is and I cannot find any real issues with it. The second thing is, that is not the case with this watch. I do have a few issues with it, but none of them are about the quality of the watch, as I find the fit and finish on this model to be superb.
This version of the OWC Mil-Sub has snowflake hands, no date and a lumed ceramic bezel and Soprod A-10 movement. I mention that because you can configure your watch differently if you choose as there are a few options OWC has. You can opt for a Seagull movement which will drop the price to about $725, a Steel bezel insert, and sword hands instead of the snowflake, and lastly a date version as well.
Believe it or not, the dial and bezel insert color on this model are actually a deep dark blue, which might be hard to pick up in the photos. It is actually hard to pick up in real life as well, to the point I had to email the owner of the company to ask him which it was. I didn't know if I was seeing a blueish dial because of light coming through the crystal and that was just the hue it was giving off or if it was actually a deep blue, because you can see in some photos how it definitely looks black. While I like the look of the dial and bezel, I think if you are going to go blue, a lighter shade or a more pronounced blue would have been a better way to go, as this is so close to black it is hard to tell the difference.
What I do like about the dial is that it is clean and not cluttered with text and while many times I prefer a date, these days unless it's at the 6 position or in place of a marker, I prefer to have it without. This model as I said is available with a date, but looking at it on the website I do not care for it, it just looks out of place. The markers are painted on, instead of applied and that is something of a letdown at this price point. Though it can be argued that the choice of painted markers was for aesthetic and not a cost issue.
The top of the case and bracelet is all satin brushed, while the sides of the case and bracelet are high polished. Many I am sure at this point know I am not the biggest fan of high polish unless it is a dress watch, but I really do like everything else on the watch so much that I can overlook it. Not only is the case and bracelet well finished, both have some heft to it. This is a solid case and bracelet coming in at over 200 grams for a watch that measures only 40.5mm in diameter. Another thing of note on the case would be the use of the lug holes that have torx screw bars for bracelet/strap attachment. Included are 2 torx screwdrivers that are coated to lessen the damage of scratches against the case. The bracelet uses the same screw heads, but are one-piece screws, where they thread into the link itself. This really should be standard on all watch bracelets. Super easy to size, and the bracelets also include half links.
Now, while the bracelet is easy to size, I did have an issue and also something I found odd as well. The issue I had was that a few screw bars got stripped and were then spinning. This could have been my fault though, as I might have torqued the screws back in too hard or at a wrong angle when sizing. I would just suggest some caution when screwing the bars back in and do it lightly and just until they are tight. I did speak to the owner on this and he says that are always working on improving and that it has not been a widespread issue.
What I found as odd was the use of a dual deployant clasp instead of a diver's clasp, after all this is a dive watch. Personally, I do think the dual deployment is much cleaner looking, but you give up having micro adjustment holes for a nicer aesthetic. The bracelet does include two half links, and I was able to get a pretty decent fit for my 7 ½ wrist.
The movement used in my example is the Swiss Soprod A-10. If you are not familiar with this movement, Soprod is a company that is making many calibers of movements, and the A-10 was designed as a direct replacement for the ETA 2892. It has a 42-hour power reserve and a very smooth sweeping seconds hand. Other companies that have been using this movement for a few years would be Stowa, Ball, and Aegir, to name a few. So, as you can see this is not a movement to look down upon. And between the movement and the action of the crown on the OWC, everything is pretty seamless. The action on both the crown and bezel is fantastic and a sign of a quality watch.
Lume is superb as you can see, right up with many of the lume kings. I do not think anyone who loves long lasting and bright lume would be disappointed.
As always I have tried to convey what I like and what I don't like about the watch, and hopefully have done so here. Beyond the little issue I had with the bracelet screws, I cannot find any other quality issues at all. I spoke to a few of my watch friends and I think we all agreed that the watch somewhat reminds us of a scaled down Orient Saturation diver, with a different dial. So, if you have always liked that watch but felt it was way too large for your tastes, you might want to check out the OWC Mil-Sub.
I show photos of the packaging as well. It is a wooden "puzzle" box, and while the watch was well protected, you have to use a knife or screwdriver to get the top to come off, and the box can literally be disassembled in a few seconds. Not sure what the point of that is, and feel the company can save themselves some money by going with a standard watch box, or instead doing a nice leather or canvas travel roll. But we do not buy a watch for its box, so I might be nitpicking there.
And I am possibly nitpicking because there is just not a lot that I can point out here that I do not like. The OWC Mil-Sub looks and feels great on my wrist and feels slightly larger than its listed specs, most likely due to the case design and a non-tapered thick bracelet.
I would honestly recommend this watch to anyone who wants a high quality homage in a more average size that is not a one off copy of anything; at least in my opinion. Hats off to OWC for sure, for a job well done.
You can check out all of their models and get much more info at their website HERE. Thank you for reading. Please leave any questions or comments in the field below.