Luxury watch maker – Piaget – is well-known from getting unique watch designs into the market and its latest announcement is the new Piaget Cushion Minute-Repeater which features an aesthetic ultra-thin design and belongs to the family of Piaget's famous Emperador Collection.
The watch design involves a lot of technical inputs and complexities with the watch calibre 1290P measuring at just 4.8mm thick and the watch-case being just 9.4mm thick. An interesting fact about the calibre 1290P is that it is currently the slimmest in the world and provides the timepiece with several interesting functions like hour, minute and minute repeater. The watch also offers a power reserve of 40 hours.

It took nearly three years of intensive dedication and hard work to the experienced watchmakers of Piaget to finally bring this masterpiece to life.  It was a real challenge for the designers to pack the entire machinery with self-winding minute-repeater movements and steel gongs with some of the elements being just 0.12mm thick and the others being thick only to the dimension of a hair i.e. 0.7mm.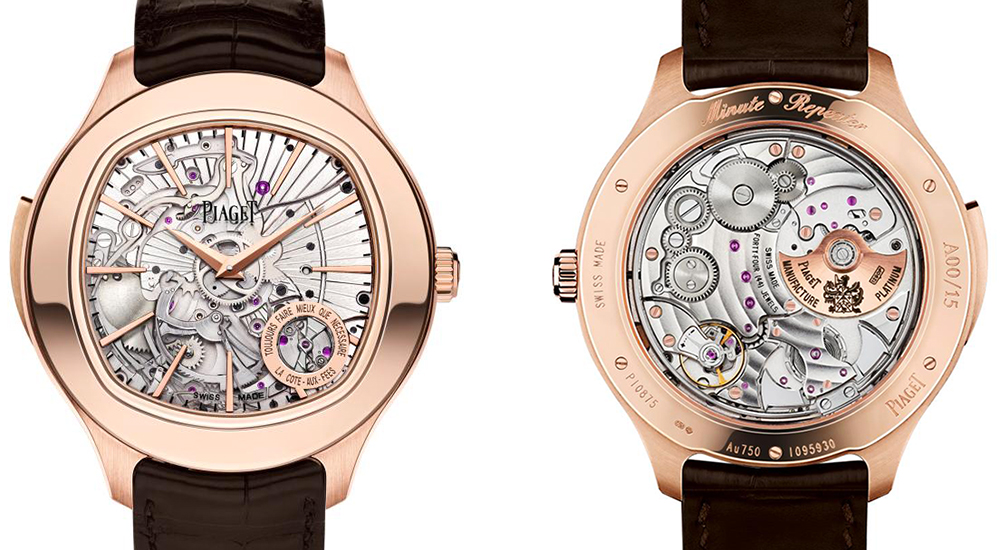 The Piaget Cushion Minute-Repeater is packed in a 48mm pink-gold case which features an open-worked design and plays a crucial role in the transmission of the gong vibrations. The front-dial is fitted with a Sapphire glass and gives a direct visibility and exposure to the elements of the Cushion-Minute Repeater.
The Piaget Cushion Minute-Repeater is priced at CHF 284,000.