Lum-tec Abyss 400m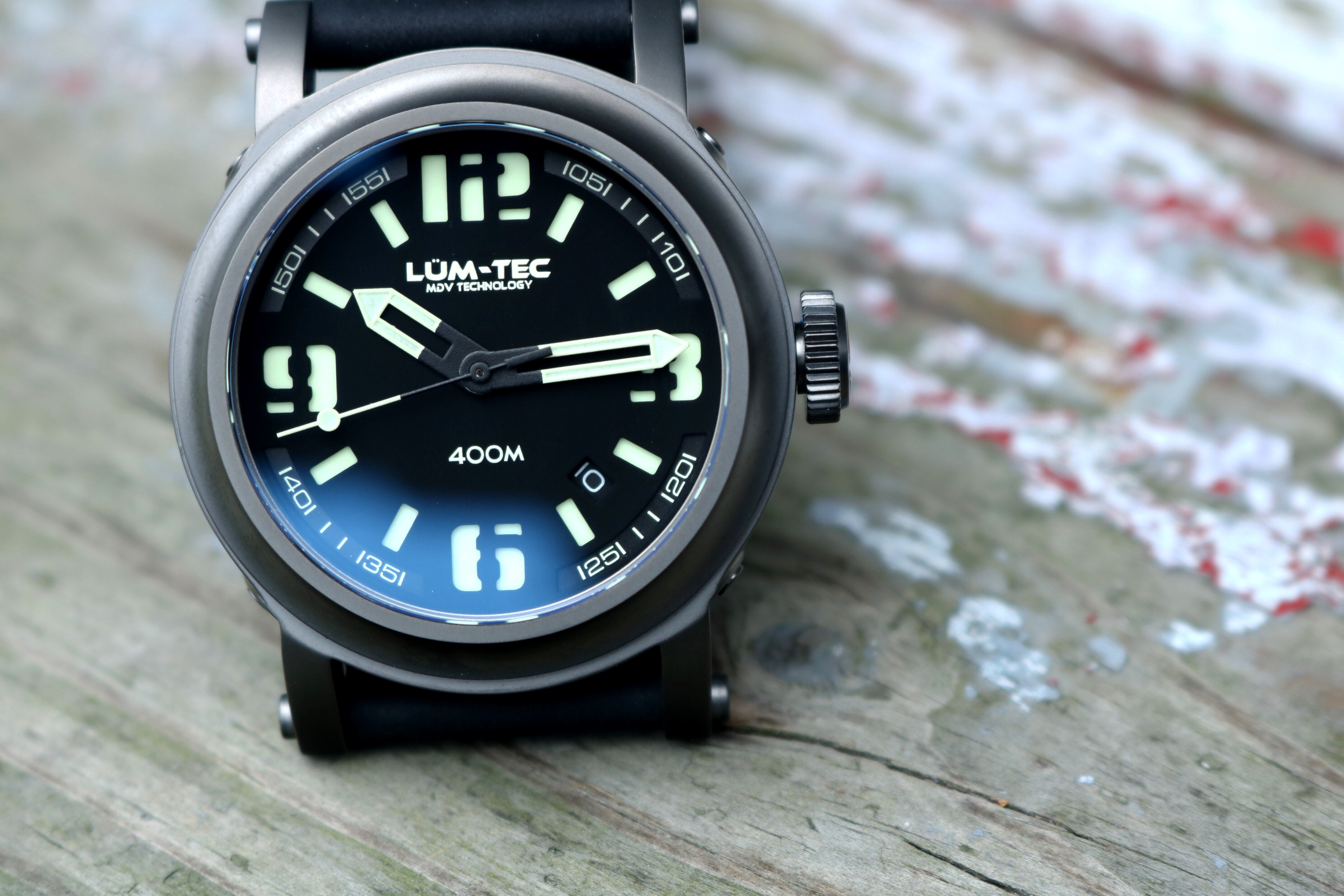 You ever not like a watch only to find yourself really digging it later on? Well, that is what happened to me with the Lum-tec Abyss 400m. It took a few years, as it was just not on my radar anymore, and it started with the 600m version. I go into detail about this in the video, so I will not drag on about it here, but it is something that rarely happens. Let me be clear, I never saw the 600m version in person, only in photos a few years ago. The size was one of the biggest turn offs for me and when Lum-tec came out with the 42mm 400m version about a year or so ago, I didn't even really give it a second look. Why? I just didnt. Just one of those things. For some reason I landed on the Lum-tec website just a month or two ago and started looking at this one and reading the specs. I reached out to the company to get one in hand for review and I have to say my opinion really did a 180.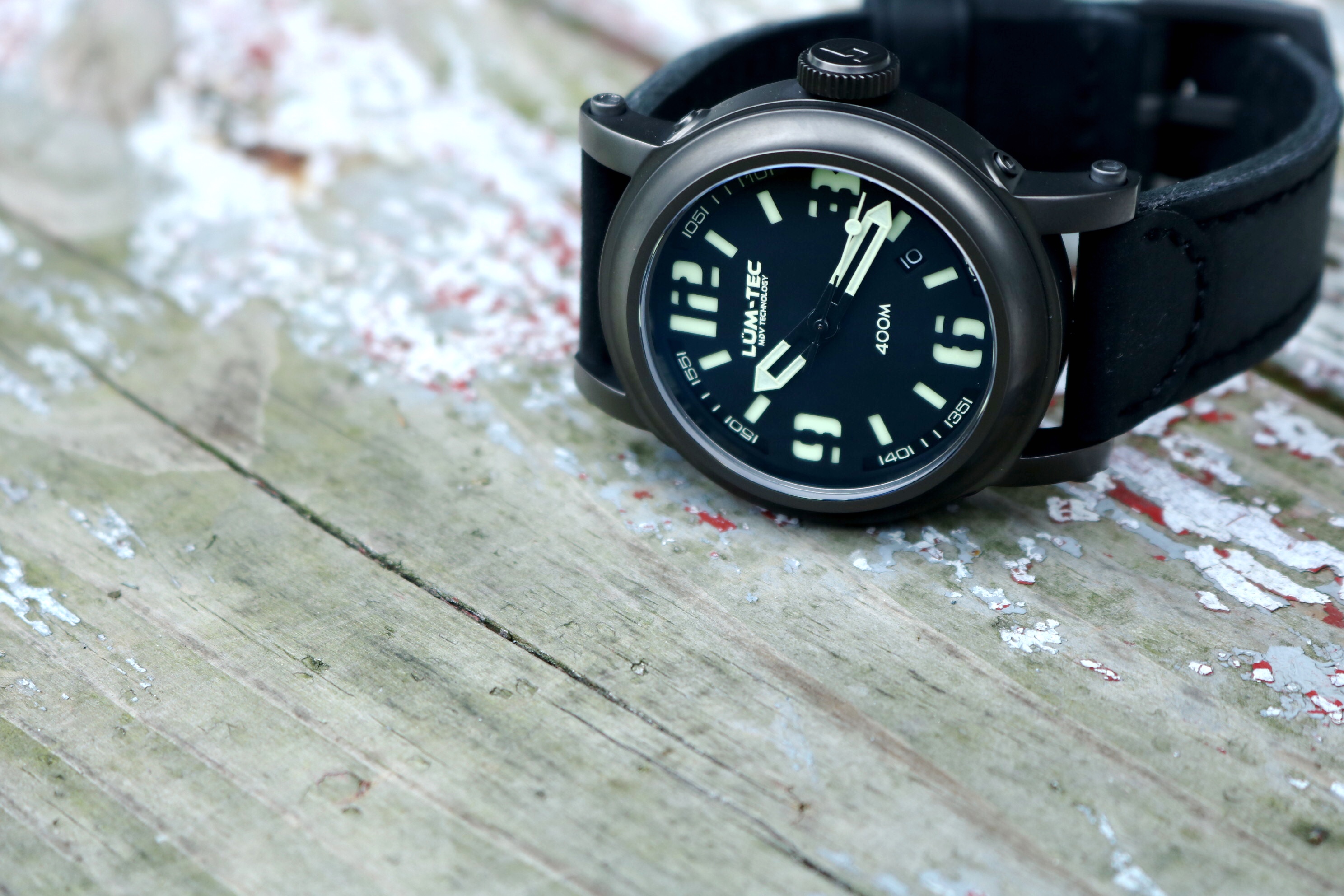 Lum-tec Abyss 400m-1 Specifications:
42mm Case
13mm Thick
22mm Lugs
51mm Lug to Lug
316L Stainless steel case

Bead blasted titanium carbide PVD (titanium color)

Sapphire crystal with double side clear anti-reflective coating

Screw lock crown with double diamond sealing system

High tech Viton® gasket

MDV Technology old radium luminous with matte black CNC cutout dial

Threaded solid 316L stainless steel caseback

400 meters/1312 ft. water resistance

Brown leather strap with vintage stitch. 22/22 size

Precision tuned 28,800 BPH Miyota 9015 Japan automatic movement with     hand winding and hack feature

One year limited warranty

Limited numbered series of 100

Free lifetime timing adjustments
Price: $695 USD
https://www.lum-tec.com/400m-1.html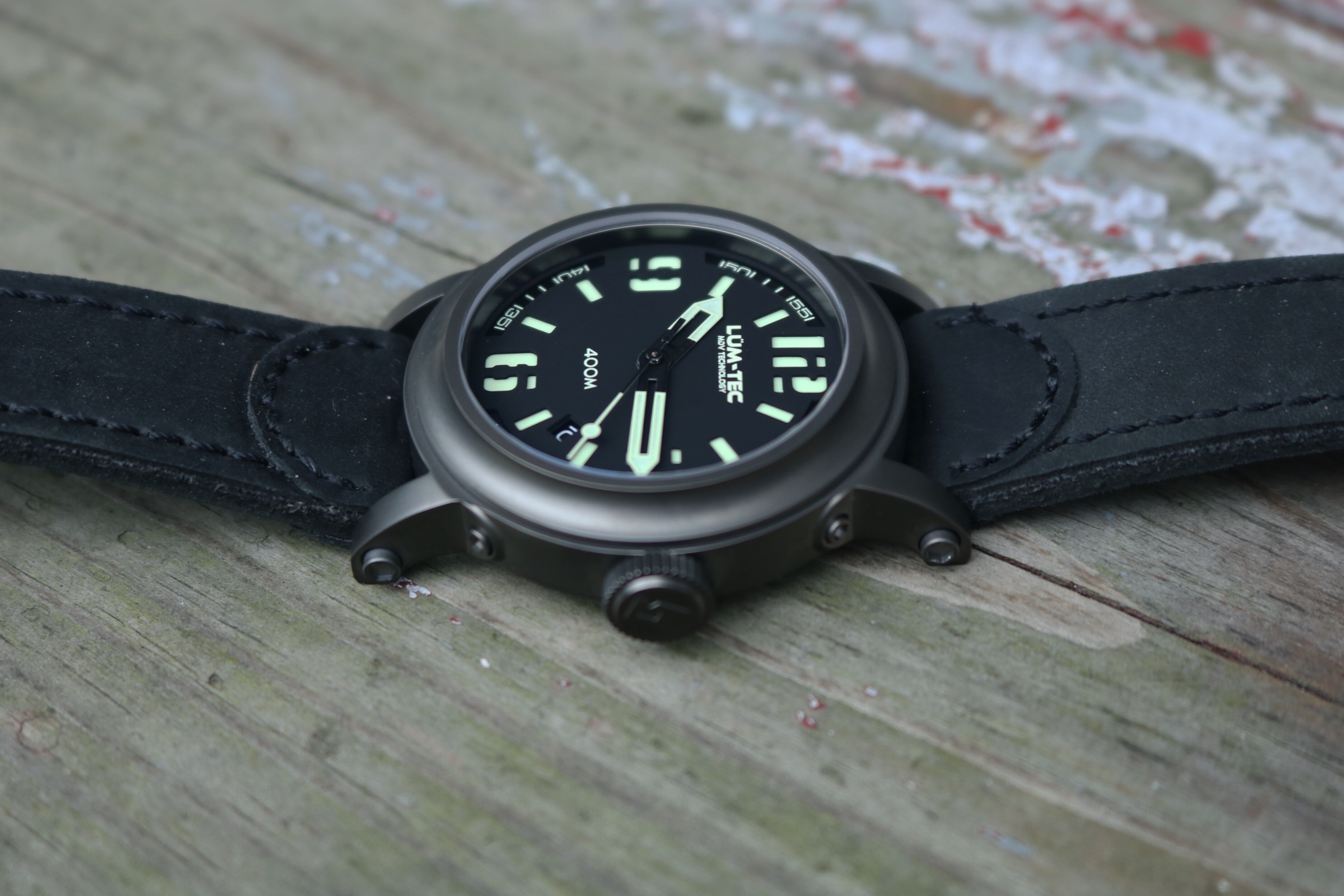 So, I know I am late in reviewing this watch, usually I review watches that were newly released. As I said, once I looked over this watch again recently, I really wanted to check it out in person, and I am glad I did. Right out of the gate, this watch is different. The case, the dial, the whole overall design can be polarizing, and you will probably love it or hate it. It is masculine, very brutish if you will, and there is nothing subtle about it. The massive Arabic numerals stand out immediately, as does the large crown which sticks out ever so slightly from the case, couple that with the large crown diameter and no one should ever have an issue with gripping it to wind or set the time.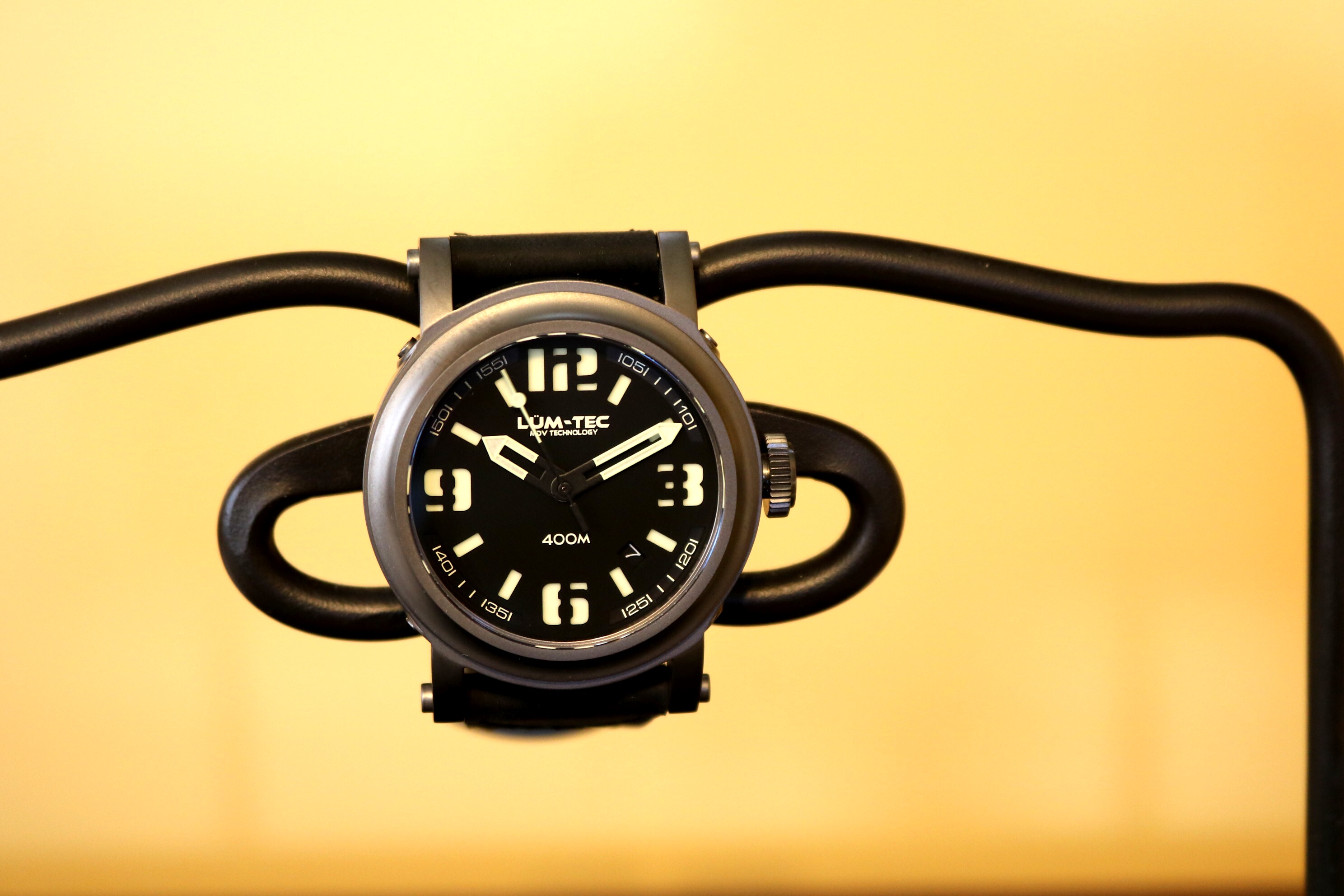 One thing I have found hard to do is categorize the Lum-tec Abyss 400m. With a model name such as Abyss, which is basically a bottomless pit, it gives you the impression it is an outdoor watch, a go anywhere, do anything timepiece. With its 400 meters of water resistance it can definitely go in the water and I would imagine whether on a trail, climbing a mountain or something as mundane as mowing the lawn, this should serve you well. Man, did that sound like an advertisement or what? Yeah, it did, but it is just the impression I get from the Abyss. It has that rugged feel about it, and the construction gives me the feeling it could stand up to whatever you throw at it. Don't get me wrong, it is not a G-Shock or anything, but it is a solid watch with a screw down crown, sapphire crystal, and screw bars that hold the strap in place. Plus, it looks better on the wrist than any G-Shock I have ever seen.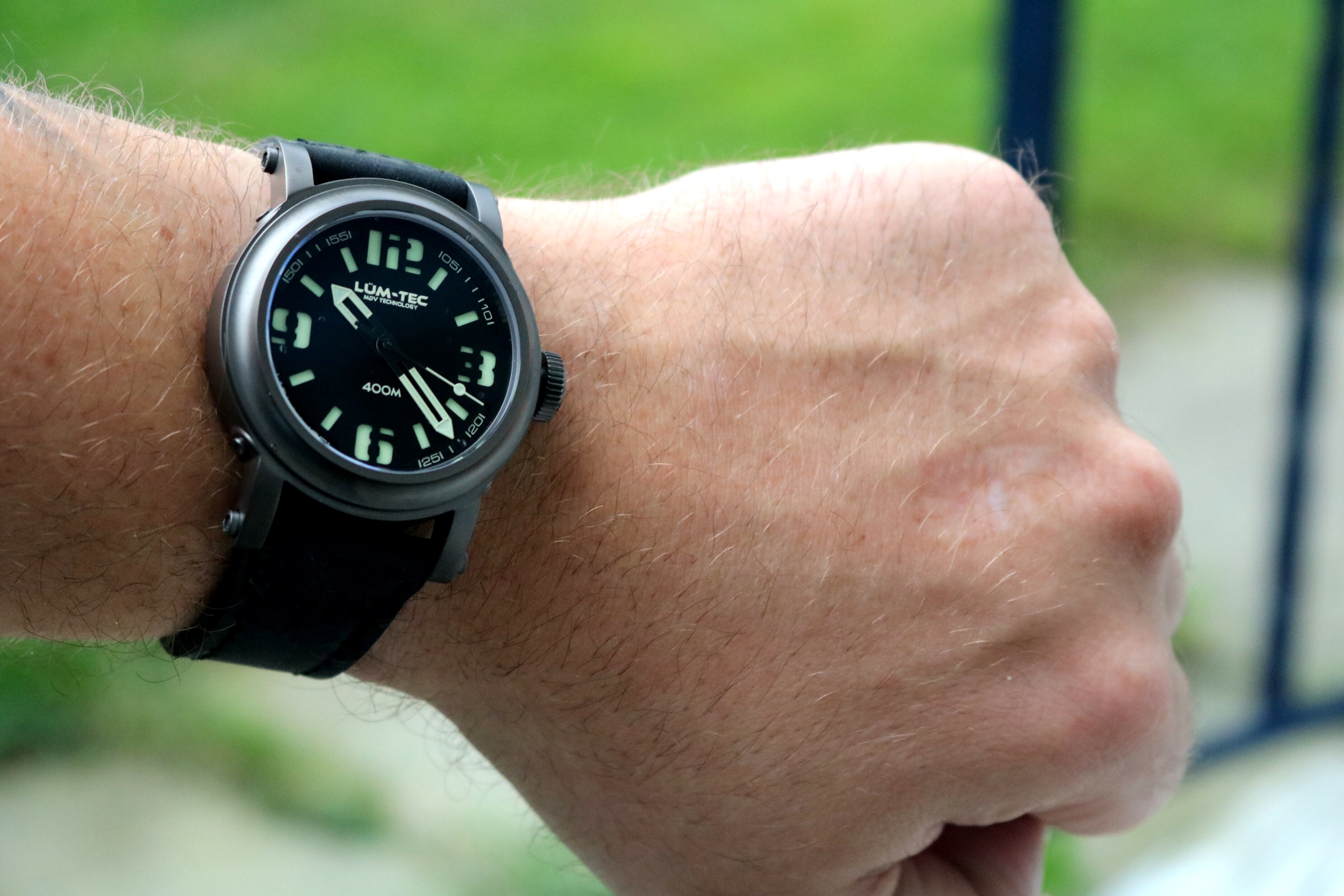 I will always prefer a no date in a watch such as this, I think the date is lost a little in the dial, but with the large numbers I almost don't notice it and at least it is not in the same place as its 600m big brother. I love the lollipop second hand and that the dial text is kept to a minimum. I am the first to admit that I rarely like busy dials. Never one to be ordinary, Lum-tec not only used skeleton hands, but if you look closer,  the hands themselves are carved out, allowing the lume paint to be set inside a channel as opposed to just laying on top. In some of the outside shots the Lum-tec Abyss 400m hands and numbers look like they have a yellowish hue, but as you can see in the rest of the photos they really are more of a light mint green, which creates a nice contrast against the black dial. If you have not noticed yet, yes that is a sandwich dial as well, something Lum-tec does on quite a few of their watches.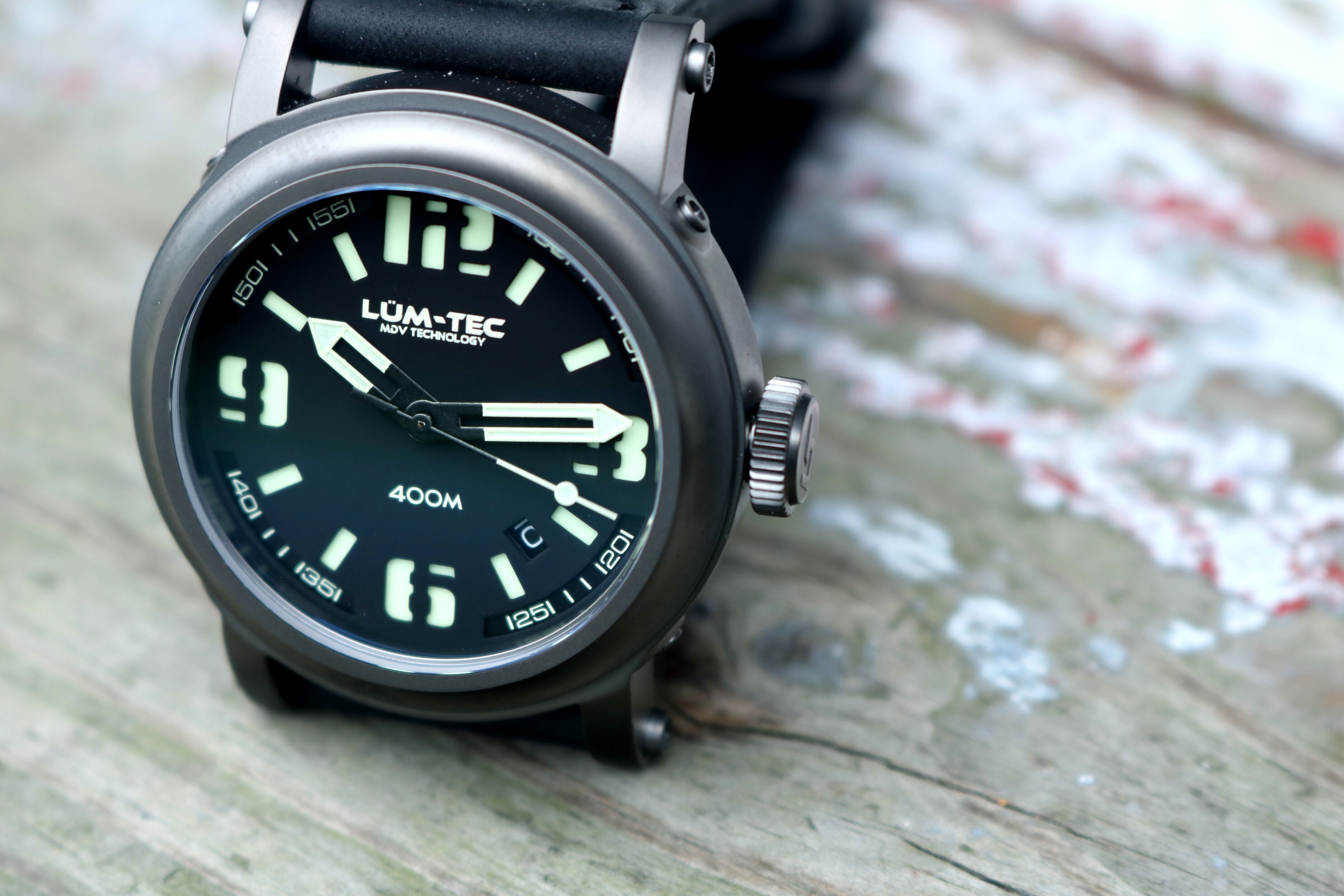 Of course the lume of the Lum-tec Abyss 400m is spectacualr. You can see this thing from across the room in the middle of the night. One thing of note though, because of how the lume is inset into the hands, they do not glow as crazy bright as the markers and numbers. The more surface area lume is applied to, especially in large amounts, the more it will glow, so the hands will never glow as bright as the massive numbers.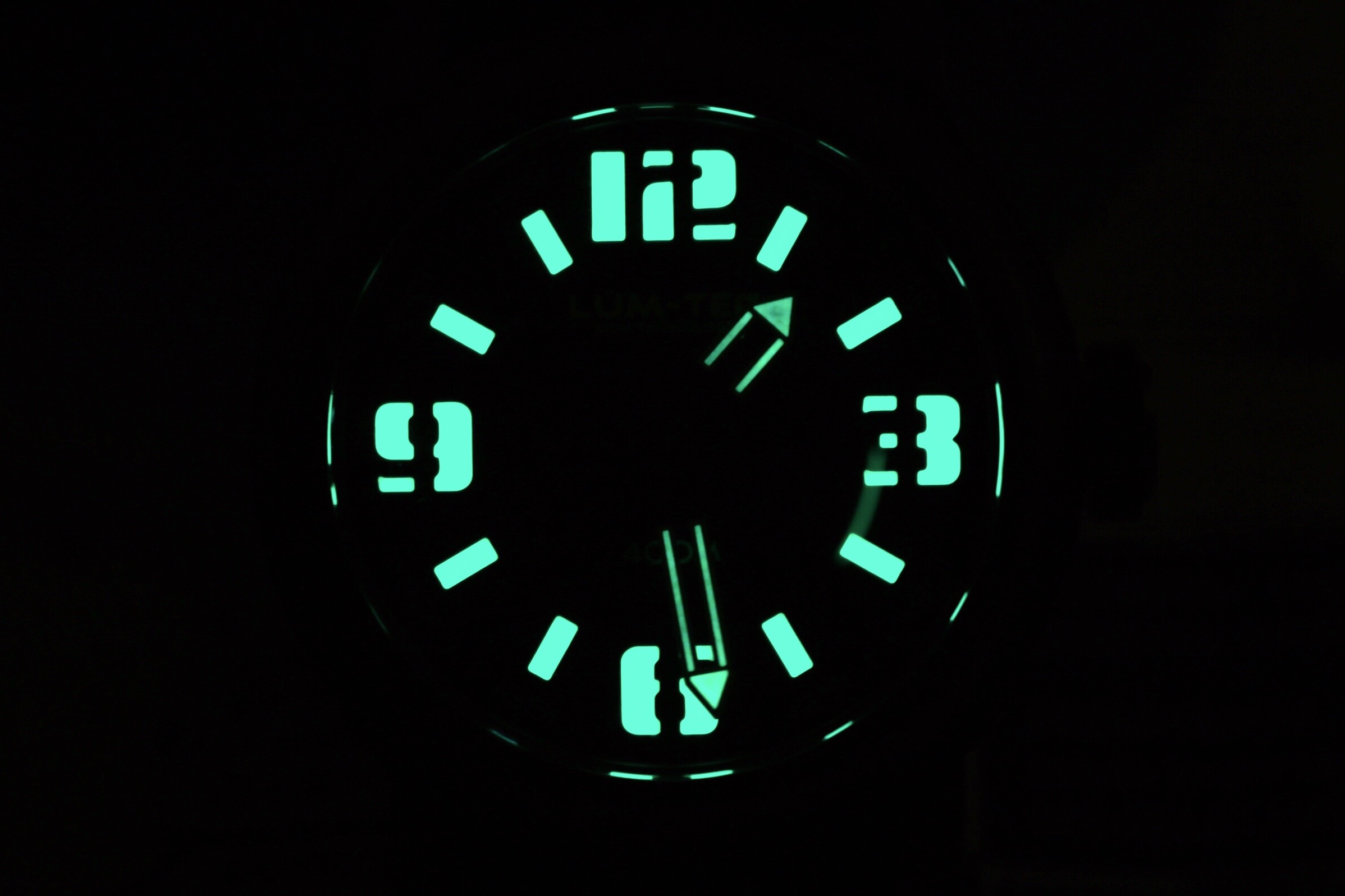 A staple of the microbrand or independent brands has been the Miyota 9015 automatic movement for the past few years. This movement has been covered over and over, here and elsewhere, and has proven to be a good, accurate movement. Sometimes, it is known to have a loud or noisy rotor, but in the Lum-tec Abyss 400m, I have not noticed it, which is probably due to case design and a good solid case back.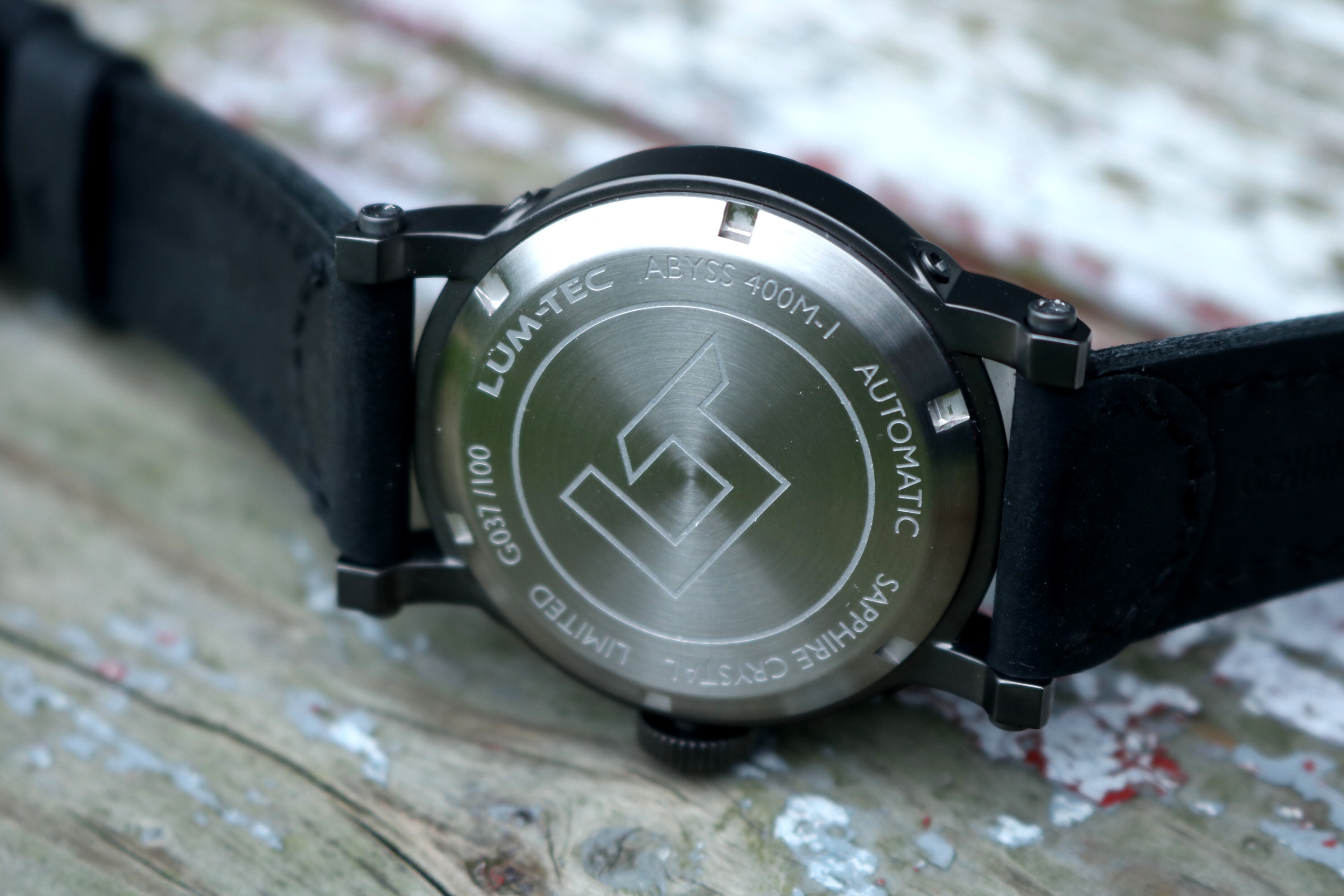 The one thing I am really not fond of on this model would be the leather strap. The style is just not for me, and I wish Lum-tec included one of their molded rubber straps or regular leather. It does not list anything on the website about the strap being waterproof either, so I would personally just put it on a better looking strap.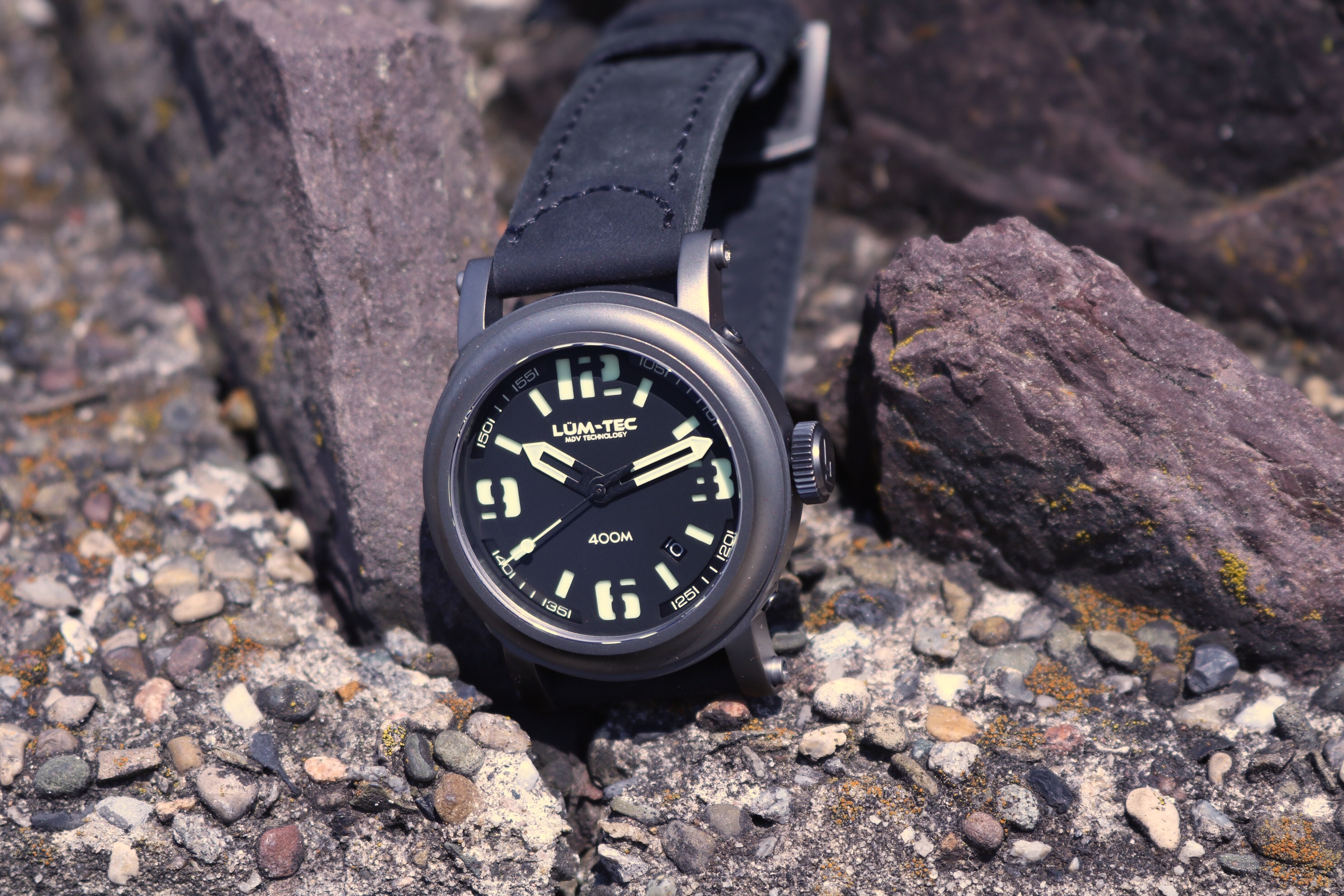 One major point I waited till the end to discuss is durability, which goes along with the go anywhere style of this watch. Please realize Lum-tec does not mention on their website that the bead blasted titanium carbide PVD coating is scratch resistant or a hard coating, but I have found it to act as such. I have banged this chunk of metal around, have knocked it into doors, and when it came to photography, some of the surfaces I used are not very kind to watches. The Abyss came away without a scratch. I was impressed. I usually can put a scratch on a watch within the first day. Like anything, give it enough abuse and you will damage it, but if you are someone that hates scratches or marks on your watches and you are not diving off of cliffs everyday, you can probably keep it pretty scratch free, at least for a good while.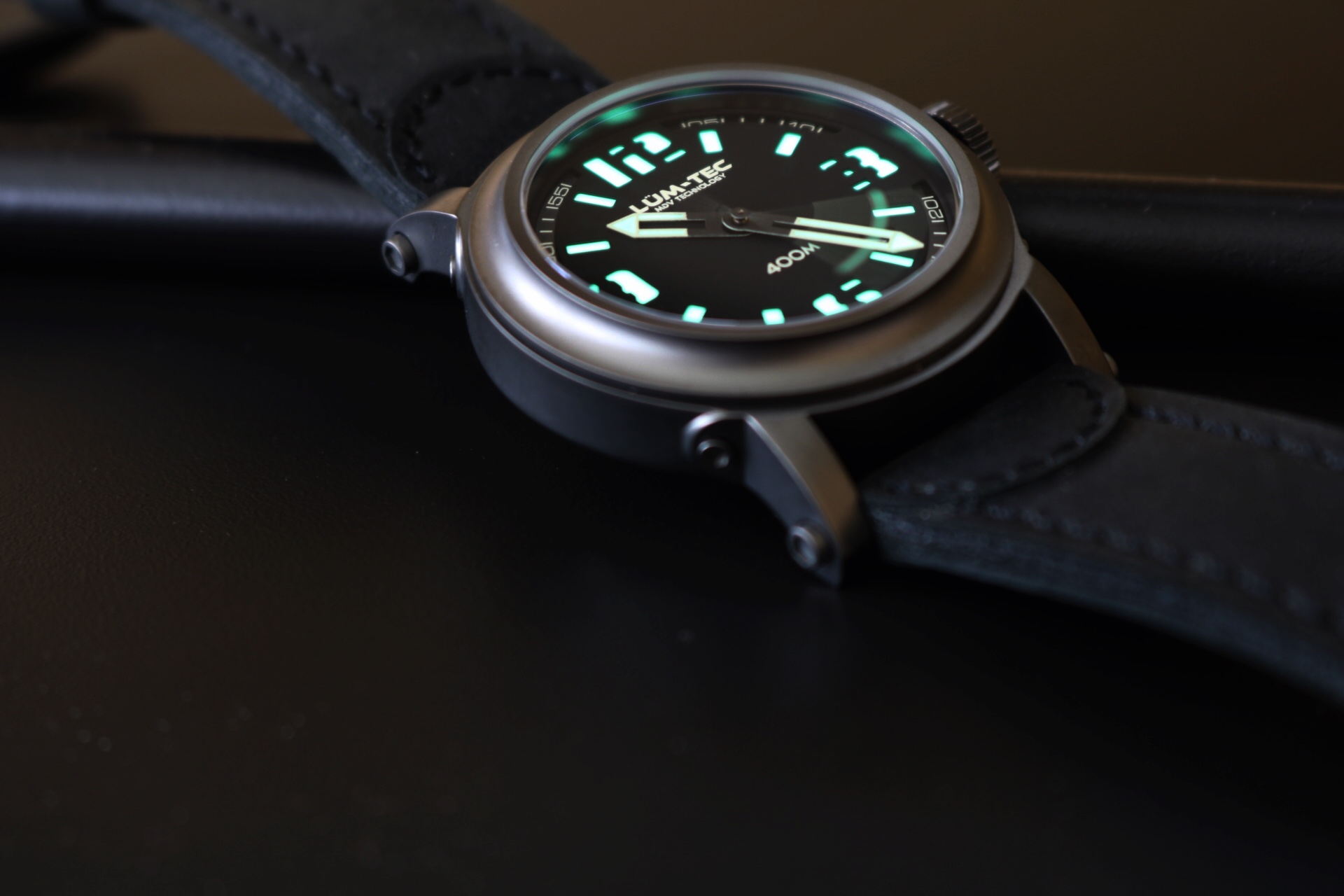 In the end, I did really fall in love with the look of the Abyss. It is different, it has a rugged appeal, and the quality is what I have come to expect from Lum-tec. As always, it is assembled and tested in the USA from their small shop in Ohio and it gets free lifetime timing adjustments. It is watch I never thought I would review, let alone like and in the end, I was converted over to the dark side. Or, with a name like Lum-tec, I guess it would be the bright side. Whatever it is, it gets a thumbs up from me, which is pretty high praise, if I say so myself.